Rainbow Popcorn
Just poppin' in to say that this Rainbow Popcorn will be your new favorite snack! Light, crunchy, and colorful, your movie night just got even better! These fun colors of the rainbow are created using Suncore Foods®️ Garnet Elderberry, Yellow Goldenberry, Emerald Pandan Leaf, Blue Butterfly Pea Flower, and Purple Sweet Potato Powders. Color your life with this colorful snack!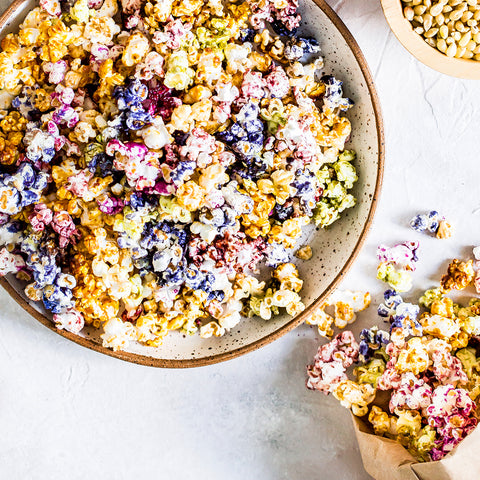 Directions
1. Pop your popcorn
2. Preheat your oven to 300 degrees
3. Prepare a large parchment line baking sheet
4. Add 1/2 teaspoon of each Suncore Foods® Powder to 6 separate small bowls.
5. Heat a small saucepan over medium-high heat and bring all the simple syrup ingredients to a boil. Reduce heat to medium-low and simmer for about 5 minutes.
6. Mix 2 tablespoons of simple syrup with each Suncore Foods® Powder, whisk to combine well.
7. Next, add 2 cups of popped popcorn to a large bowl and pour the first colored syrup over the popcorn. Stir to coat the popcorn well, then spread the popcorn onto your parchment lined baking sheet.
8. Repeat with all colored syrups, each mixed with 2 cups of popcorn.
9. Once all popcorn colors are made, bake the popcorn in your oven for 10-15 minutes.
10. Let the popcorn cool, then break apart and enjoy! Feel free to keep the colors separated or mix them together.
---