Sumikko Gurashi The Year of Tiger Steamed Buns
Happy Lunar New Year! It's the year of the Tiger. Legend had it, people who are born this year will share the Tiger's characteristics. We are celebrating it with these ADORABLE Sumikko Gurashi The Year of Tiger Steam Buns. By using Suncore Foods® Midori Jade Matcha, Red Beet, Ruby Red Radish, and Yellow Goldenberry Powders, we can magically turn ordinary steamed buns into these cute tigers. They are so cute, with just a glance and these fluffy cuties will melt your heart! We wish you a year filled with good health and happiness!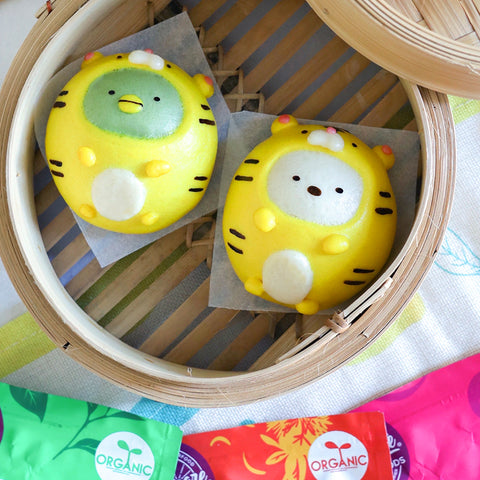 Directions
1. In a large bowl, add all the ingredients (except supercolor powder).
2. (if using a stand mixer), on low speed, mix for about 10 minutes until the dough become smooth; (if using hand), use a spatula to combine all the ingredients, use hands to combine them into a dough, let the dough rest for 10 mins and knead again until smooth.
3. Color and shape the buns.
4. Set aside in a warm place to proof for around 30 mins.
5. Steam them over high heat for around 10 mins.
6. Use black food coloring (or charcoal powder with water) to draw the facial features.
---