Royal Purple Sweet Potato Fruity Tart
Looking for the perfect tart to serve to your friends and family or Valentine's Day? You're definitely in the right place! This Purple Sweet Potato Fruity Tart is delicate and magical in both flavor and looks, and your mouth will definitely be watering. Incorporated Suncore Foods® Purple Sweet Potato Powder for those baby pink + lavender vibes! It is truly one of those desserts that you simply cannot resist! Plan ahead to make this stunning dessert for your next gathering.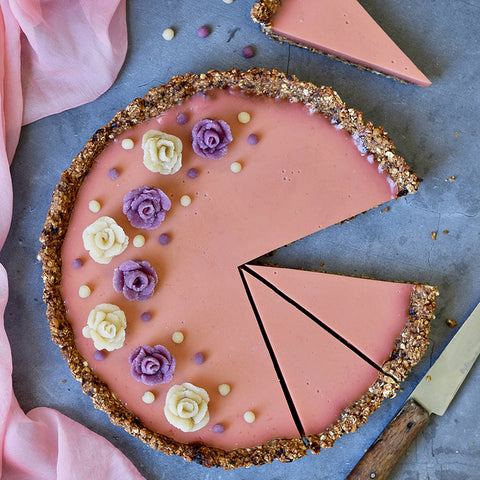 Ingredients
Crust:
135g (1 1/2 cups) oats (gluten-free if needed)
90g (1/2 to 3/4 cup) nuts or seeds of choice 
75g (1/2 cup) raisins or dates
80g banana (one small) or 1/3 cup applesauce
Filling:
320g (1 1/3 cup) canned coconut milk (full fat) or coconut cream
85g (1/4 cup) maple syrup or another liquid sweetener
120 ml (1/2 cup) fruit juice of choice
1 1/2 tsp agar agar powder
1 tsp vanilla extract
1 1/2 tbsp lime juice or lemon juice
4 tsp Suncore Foods® Purple Sweet Potato Powder
Directions
1. Process the oats and nuts for about 20-30 seconds in a food processor. Then add raisins and banana and mix again until the dough holds together when you press it between your fingers.
2. Press the crust into a greased/oiled 8-inch (20 cm) tart pan and 2 inches (5 cm) up on the sides.
3. Bake in the oven at 360 degrees F (180 degrees C) for about 15-18 minutes. Let cool.
4. Combine coconut milk, maple syrup, fruit juice, and agar agar powder in a saucepan and bring the mixture to a boil, stirring frequently.
5. Add vanilla extract, lime juice and Suncore Foods® Purple Sweet Potato Powder and stir with a whisk.
6. Let simmer for 1-2 minutes in total, then turn off the heat and wait about one minute.
7. Then pour the mixture into the crust and let cool completely. Once it isn't hot anymore, transfer to the refrigerator to set for at least 2-4 hours (or overnight). Enjoy! 
---