Rose Glazed Strawberry Rhubarb Buns
Treat yourself and your loved ones to a dozen roses of the deliciously Rose Glazed Strawberry Rhubarb Buns decorated with Suncore Foods® Rose Petals. We cannot think of a better thing to wake up to than these rose buns with a cup of hot matcha latte. They are light and fluffy, soft and moist, pleasure to bake & eat. Vibrant and lovely in so many ways—these buns are guaranteed to be a big hit on the dinner table adored by everyone. So make some ahead, freeze and enjoy!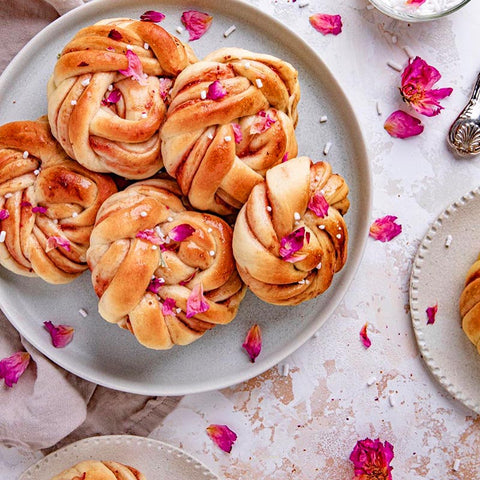 Ingredients
Dough:
150g plant milk, lukewarm
300g bread flour or all purpose flour
7g dry active or 14g fresh yeast
25g caster sugar
5g salt
100g plant butter, softened

Rose Glaze:
40 ml water
30g sugar
½ tsp vanilla extract
1 cup Suncore Foods® Rose Petals

Filling:
6 tbsp homemade strawberry and rhubarb jam
1 tbsp Suncore Foods® Pink Pitaya Powder
Directions
1. In the bowl of a stand mixer, add lukewarm milk, followed by flour. Add yeast, sugar and butter to one side of the bowl, then add salt to the opposite side.
2. Mix on slow speed for 4 minutes then increase the speed to medium and mix for a further 10-12 minutes until the dough pulls away from the side of the bowl.
3. Shape the dough into a ball and place into a lightly floured bowl. Cover and leave for 45 minutes to 1 h until doubled in size.
4. Lightly flour a work surface and roll the dough into a 40x30 cm rectangle.
5. Spread a thin layer of the strawberry filling.
6. With the short side facing you, fold the dough into three sections, like a business envelope. Roll the dough slightly, lengthwise, to seal the layers.
7. Using a sharp knife, slice it widthways into 10 strips each roughly 3cm across. Now, cut each strip down the middle, but leave it attached on top.
8. Gently twist each dough strand. Tie it into a light knot, tucking the ends underneath.
9. Place on a lined baking sheet.
10. Repeat to make 10 individual knots.
11. Cover and let rise for 45 minutes. Preheat oven to 205C / 400F.
12. While the buns are rising, make the syrup.
13. Combine the water, sugar, vanilla, and Suncore Foods® Rose Petals in a small saucepan. Bring to a simmer and cook for a couple of minutes. Remove from heat, and let cool down completely. Strain to remove rose petals.
14. Bake the buns for 8-10 minutes until golden brown.
15. Remove from oven and immediately brush with the rose syrup.
16. Sprinkle with pearl sugar and Suncore Foods® Rose Petals.
---