Red Swirl Bread
Nothing beats homemade bread hot and fresh out of the oven. Let the smell of freshly baked bread fill your home and warm your heart! This fluffy, soft, and tender loaf with a magical, hypnotizing swirl will bring joy to your heart and fill your tummy with goodness! Impress your loved one with this radiant Red Swirl Bread. This bright, flaming red color was made with Suncore Foods® Red Beet Powder and Suncore Foods® Vermillion Annatto Powder. With a swift spread of soft butter or peanut butter and jam, or sprinkled with your favorite toppings, you'll have a fantastic #afternoontea time treat. Despite the flashiness, this swirl bread is easier to make than you might think! Enjoy and make each day memorable!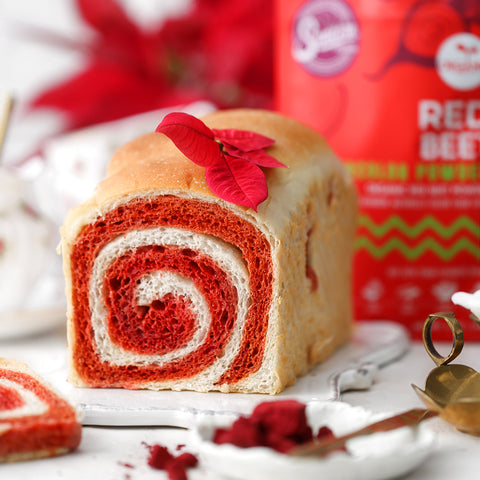 Directions
1. Proof yeast by mixing water, yeast and sugar. Set aside.
2. Add flour, sugar, oil and salt to stand mixer bowl, mix on low speed for a few seconds. Then add in the yeast mixture.
3. Mix until you get a very smooth dough (about 10-15 minutes).
4. Then divide the dough into half. Form one of the doughs into a round shape then place it in an oiled bowl, set aside.
5. Add water and Suncore Foods® Red Beet Powder & Suncore Foods® Vermillion Annatto Powder, mix well.
6. Knead the other half of the dough on a floured surface together with the red mixture until very smooth. (Add a tbsp of flour if needed).
7. Place red dough in an oiled bowl.
8. Let them rise at a warm place for an hour (cover with kitchen towel).
9. Once ready, roll out the white dough into a rectangle shape. Repeat for the red dough.
10. Place red dough on top of the white dough then roll them again with slight pressure. Roll the dough into a log. Then place it in a loaf pan to proof for another hour.
11. When ready, bake it in a preheated oven at 175 degrees Celsius for 20-25 minutes. Enjoy!
---