Red Beet Pomegranate Cheesecake
Nothing says holiday like a beautifully crafted cheesecake. Creamy, sweet, and fantastically festive Red Beet Pomegranate Cheesecake is a quintessential show-stopping dessert guaranteed to make everyone smile. Filled with holiday delight from Suncore Foods® Red Beet, Ruby Red Radish powders, and Jasmine Flowers, super easy to make & completely customizable – bake to feel the joy!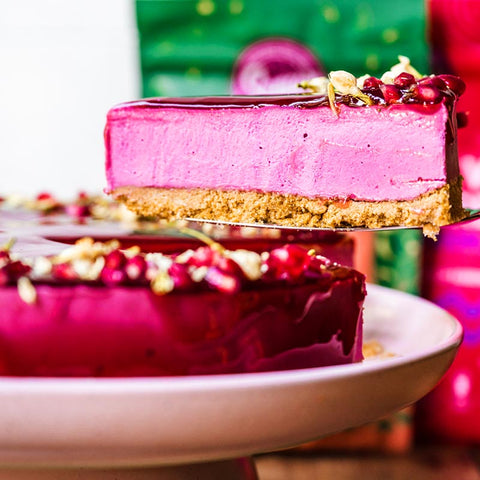 Directions
1. Make the Crust — Preheat the oven to 325°F (163°C). Line a 9-inch (23cm) springform pan with parchment paper in the bottom and grease the sides. Combine the crust ingredients in a small bowl. Press the mixture into the bottom and up the sides of the springform pan. Bake the crust for 10 minutes, then set aside to cool. Cover the outsides of the pan with aluminum foil so that water from the water bath cannot get in (see how I prepare my pan for a water bath). Set the prepared pan aside.
2. Make the Filling — Reduce oven temperature to 300°F (148°C). In a large bowl, beat the cream cheese, sugar and cocoa powder on low speed until well completely combined and smooth. Be sure to use low speed to reduce the amount of air added to the batter, which can cause cracks. Scrape down the sides of the bowl. Add the sour cream and buttermilk and mix on low speed until well combined. Add the eggs one at a time, mixing slowly to combine after each addition. Scrape down the sides of the bowl as needed to make sure everything is well combined. Add the vinegar, vanilla extract, pomegranate juice, and Suncore Foods® Powders and mix until well combined.
3. Pour the cheesecake batter into the crust. Place the springform pan inside another larger pan. Fill the outside pan with enough warm water to go about halfway up the sides of the springform pan. The water should not go above the top edge of the aluminum foil on the springform pan. Bake for 1 hour 45 minutes. The center should be set, but still jiggly. Turn off the oven and leave the door closed for 30 minutes. The cheesecake will continue to cook, but slowly begin to cool as well. Crack the door of the oven for 20-30 minutes to allow the cheesecake to continue to cool slowly. This process helps prevent cracking. Remove the cheesecake from the oven and water bath wrapping and refrigerate until firm, 5-6 hours or overnight.
---