Rainbow Sushi Rice Balls
Take your sushi-making skills to the next level with this fun and colorful Rainbow Sushi Rice Balls colored with Suncore Foods® Powders. Incorporated Suncore Foods® Red Beet, Blue Butterfly Pea, Purple Sweet Potato, and Emerald Pandan Leaf Powders and mixed in with some furikake before shaping them into these adorable bit-sized balls and adding a piece of nori strip around each one. The result is a mouthwatering yummy presentation. Grab yourself a bag of our powders to get ready to catch the rainbow in these colorful sushi rice balls!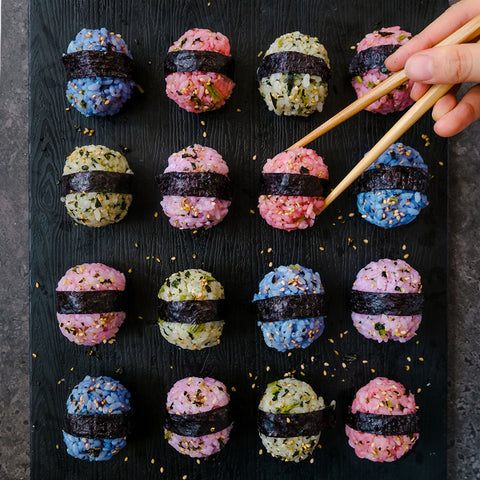 Directions
1. Wash the Japanese rice 2-3 times with water or until the water runs clear.
2. Cook in a rice cooker. (1 cup rice = 1 cup water).
3. While the rice is cooking, pour rice vinegar, sugar and salt into a large wooden or ceramic bowl. Mix well.
4. Once rice is cooked, add into the vinegar mixture and mix well. The hot rice will easily absorb the mixture.
5. Cover the rice with a damp towel. Refrigerate for at least 1 hour. Cover with a towel or cling wrap then refrigerate.
6. Rice vinegar: you can start with 1/8 cup or 2 tbsp or rice vinegar and adjust depending on your preference.

7. To color the rice, simply divided the sushi rice into 4 and diluted 1 tsp each of the powders (butterfly pea, sweet potato, red beet, and pandan) in 2 tbsp water each before mixing it into each bowl of sushi rice. Then mixed in some furikake and mixed it before shaping the balls and wrapping the strips of nori!
---