Rainbow Puppy Chow
Here's a little superfood spin on the classic holiday treat! This Rainbow Puppy Chow is the perfect colorfully fun treat to create with your family! The colors are created using Suncore Foods® Purple Sweet Potato, Midori Jade Matcha, Pink Pitaya, Aqua Blue Spirulina, and Yellow Goldenberry Powders as plant-based food dyes to make this snack even more fun! The great thing is, you can customize the colors with our other Suncore Foods® Powders! Get ready to dig in and get your munch on!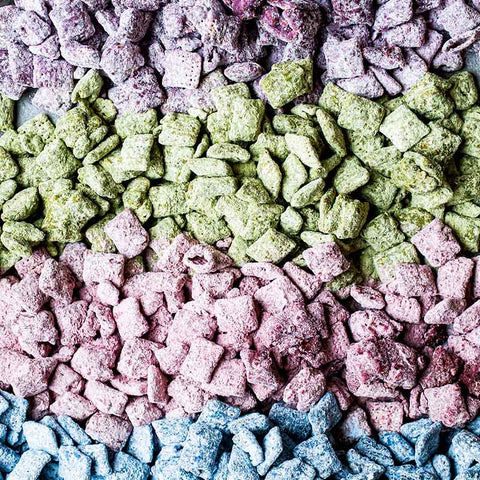 Directions
1. Pour the rice chex cereal into a very large mixing bowl.
2. In 5 separate gallon-sized storage bags, add 1/2 cup of powdered sugar and each of the Suncore Foods® Powders.
3. Place the dark chocolate chips, peanut butter, butter, and salt in a medium microwave-safe bowl and microwave on high for 1 minute. Stir, then continue microwaving in 15 second intervals, stirring in between each, until almost melted and smooth.
4. Pour the chocolate peanut butter mixture over the cereal and toss, making sure to coat all the cereal as best as possible without crunching too much of it.
5. Next, add 2 cups of chocolate coated chex to each gallon bag, and shake vigorously until the cereal is evenly coated. Repeat for all colors. * you may have a little extra cereal, in which case you can choose which color you'd like a little extra of, or even just use regular powdered sugar.
6. Pour all of the colored puppy chow onto a parchment-lined baking sheet and let it cool for about 10 minutes, then store in an airtight container or a clean zip-top bag if not serving immediately
---