Rainbow Tie-Dye Dumplings
Add rainbows to anything and we assure you it will instantly become better just like these marvelous Rainbow Tie-Dye Dumplings! Sometimes a splash of color is all it takes, and we have exactly what you need with our fantastic Suncore Foods® Powders! For these splendid dumplings, added a mix of Suncore Foods® Pink Pitaya Powder, Blue Butterfly Pea Powder, Red Beet Powder, Purple Sweet Potato Powder, and Midori Jade Matcha Powder for the dough and we love how it turned out. Don't miss out on the fun and make these dumplings in your own home—they're a great activity to do with family!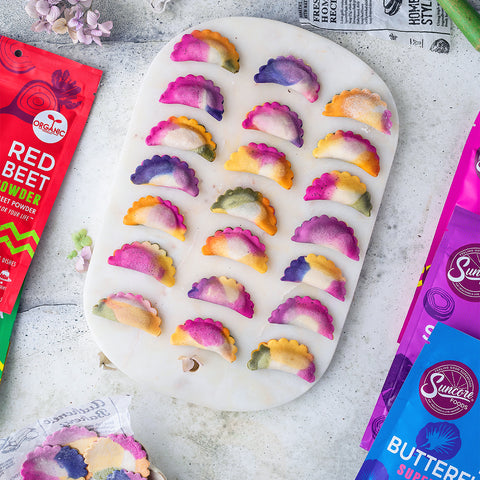 Directions
1. Combine the filling ingredients in a bowl and mix until well-incorporated. Set aside.
2. In a big bowl, combine all ingredients together and mix until it forms a ball (the dough should be firm). Cover with a wet towel and let it rest for 10 minutes. Transfer the dough to a working surface and kneed until the dough becomes smooth. Follow the same process for each dough.
3. Roll part of each dough into a rope then assemble them together to make a bigger rope. Cut the rope into small pieces and press each piece into a small disc. Then use a rolling pin to flatten it into a thin disc, then cut with a cookie cutter if prefer.
4. Place a tablespoon of filling in the middle of a wrapper and seal the wrapper.
5. Boil a pot of water and gently add in dumplings. Cook for about 5~8 minutes until the dumplings float on the surface.
---