Rainbow Mini Popping Pearls Sparkling Lemonade
It's bobbly happiness in a glass! Refresh and keep it cool with this fun Rainbow Mini Popping Pearls Sparkling Lemonade. Nothing better than sipping on bubbly delicious lemonade on a hot summer day. We use Suncore Foods® Aqua Blue Spirulina, Blue Butterfly Pea, and Pink Pitaya Powders to create these adorable, colorful popping pearls! Cheer to the weekend!!!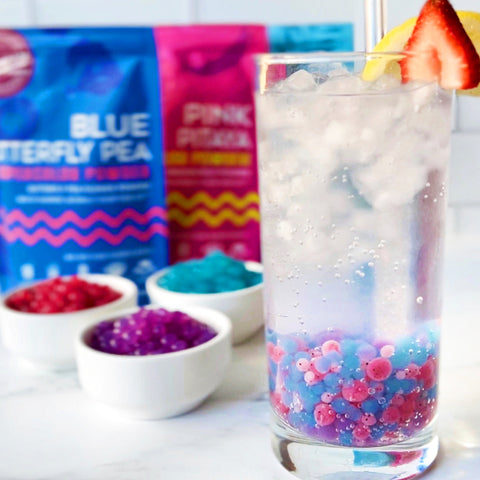 Directions
1. Pour oil into a tall clear glass and chill in fridge for 4 hours or freezer for 45 mins.

2. Using a small saucepan, combine drink, coloring powder, and agar agar. Mix until combine and heat until it comes to a boil. Remove from the heat and let cool for 10-15 mins.

3. Fill a squeeze bottle or dropper with the cooler liquid. Drop slowly into the cold oil. It should form into small sphere. Practice dropping a few into the same sphere to create larger pearls. Repeat until all liquid have been used.

4. Drain pearls into a sieve and rinse with cold water. Add finished pearls to your favorite sparkling water, lemonade, beverage, on top frozen yogurt, and ENJOY!
---