Purple Yam & Sweet Potato Steamed Flower Buns
The most delicious, cotton soft, puffy, and fluffy steamed buns of mantou born out of a dream. With the combination of Suncore Foods® Lilac Taro Yam and Purple Sweet Potato Powders and the white flour dough gives these steamed buns a beautiful, rich purple hue and satisfying outlook both to the taste buds and the eyes. Surprising easy to make and mouthwatering in every bite. The heavenly stoma will sure start your day right and your family will thank you! Who wants to join us and have a bite? Don't forget to look through the various selections of Suncore Foods® Powders to add the fun colorful twist while baking!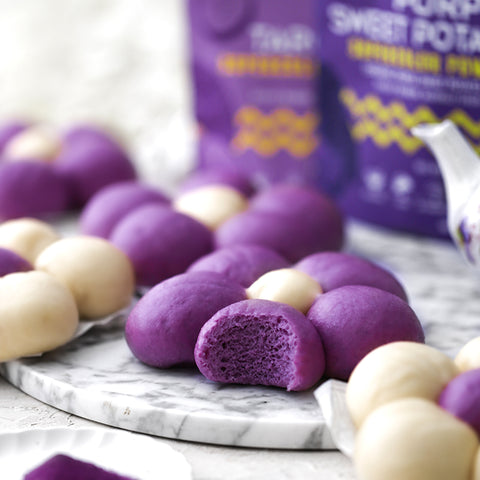 Directions
1. To Make the Dough — Place all ingredients including the purple mixture; knead until the dough is very smooth.
2. Repeat for the white dough.
3. Wrap with cling wrap and let them rest for 30 mins.
4. Divide them equally. Each purple flower pedals measure 18 grams. Each Pistil Measures around 12 grams.
5. Shape them round. Use a spatula to create indentation on the flower petals.
6. Arrange them on a parchment paper; leaving a small room for expansion. Let them rise until double in size.
7. Steam over medium heat for 10 mins. Enjoy!
---