Purple Sweet Potato Chocolate Truffles
Chocolate is the gift of love! Looking for a great handmade treat that is gift-worthy? These Purple Sweet Potato Chocolate Truffles are your answer! Who can resist the union of both milk and dark chocolate along with heavy cream and crunchy hazelnuts? And after a fun roll around in Suncore Foods® Purple Sweet Potato Powder, these truffles make for an extra special spectacular treat! Today's good mood is brought to you by the color purple! With just a handful of and the recipe at SuncoreFoods.com, you can easily give the gift of chocolate to your friends and family. So much joy and happiness that could fit right in the palm of your hand!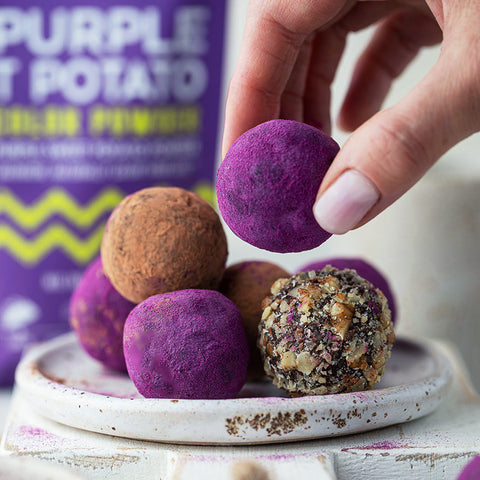 Directions
1. Heat cream in a small saucepan over medium-high heat. Bring just to a simmer.Pour hot cream over chocolate in bowl. Let rest 5 minutes. Chill mixture in fridge 2 - 3 hours until it has firmed up and is easier to work with.
2. Scoop mixture out 1 tbsp at a time and transfer to a dish lined with parchment paper. Roll portions into balls adding a hazelnut into the center.
3. Place Suncore Foods® Purple Sweet Potato Powder in a small bowl then roll truffles through to cover. Return to parchment in pan.
---