Pink Pitaya Roll Cake
Today we're getting all lovey-dovey with PINK and our kitchen truly becomes the heart of the home during tis' time plus our holiday spirit is soaring so high! Labor of love Pink Pitaya Cake Roll filled with a cloud-like whipped cream and using our Suncore Foods® Pink Pitaya Powder to bring out the vibrant pink hue! It is as delicious as it is pretty—the perfect dessert to celebrate the holiday season!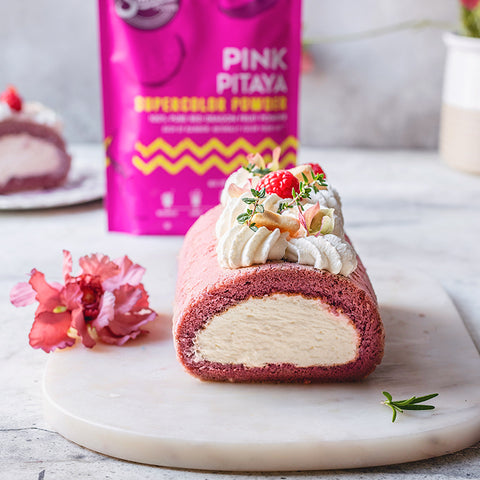 Ingredients
Cake:
1/3 cup cake flour (sieved twice)
2 tbsp Suncore Foods® Pink Pitaya Powder
4 large eggs (egg white and yolk separated)
1/3 cup coconut sugar
1 tsp honey
4 1/2 tbsp milk
1/3 cup vegetable oil
16-in square pan

For the Cream:
2 cup heavy cream/full fat coconut cream
1/3 cup sugar
Directions
1. Preheat oven to 350°F. Line the pan with parchment paper.
2. In a small bowl add Suncore Foods® Pink Pitaya Powder with milk and microwave 30 seconds; then add oil and whisk to mix well. Add egg yolk and gently mix well.
3. Transfer the mixture to a big bowl and add cake flour. Fold to mix well. Set aside.
4. In a large bowl, beat the egg whites with an electric hand mixer until the egg whites become foamy; add 1/3 of the sugar. Keep beating the egg whites until some soft peaks form; add another 1/3 of the sugar. Beat again until the large peaks form; add the remaining 1/3 of sugar. Whisk until still peak forms.
5. Add 1/3 of the egg whites to the batter; fold to combine with a spatula. Pour the mixed batter back into the 2/3 egg whites and fold to mix well.
6. Transfer the batter to the cake pan, bake for 25 minutes. Carefully remove cake from the pan and cool it on a wire rack and cover with a piece of parchment paper on top.
7. In a large bowl using a hand mixer, and beat 1-cup heavy cream and sugar until soft peaks form.
8. To assemble: Spread whipped cream evenly on top, leaving about a 1/2 inch border around the cake. Gently roll the cake back up and cover with a plastic wrap. Set in the fridge for 1 hour.
9. After 1 hour, take the cake out. Add more cream and fruits on top to serve.
---