Pink Pitaya Raspberry Pancakes
This is the breakfast of our dreams!! Get ready to stack your plates high with these Pink Pitaya Raspberry Pancakes whisked in Suncore Foods® Pink Pitaya Powder to give it the pretty pop of pink. We can't get over the beautiful color and the awesome that are sure to dance on our taste buds!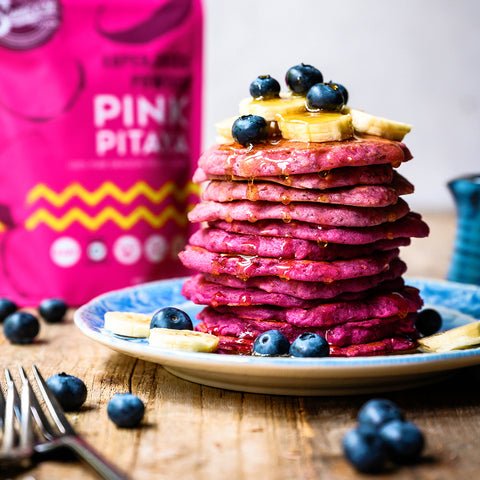 Ingredients
Make 2 Dozen Pancakes
1 cup whipped aquafaba
1 cup gluten free all purpose flour blend
1/2 cup almond flour
3/4 cup whole rolled oats
3 tbsp sugar
2 tbsp flax meal
1/2 tsp salt
1/2 tsp baking powder
1/4 tsp xanthan gum
1/4 tsp baking soda
1 1/2 cup nondairy milk
2 1/2 tbsp melted vegan butter
¾ tsp almond extract
½ tsp vanilla extract
1/4 cup raspberries
3 tbsp Suncore Foods® Pink Pitaya Powder
Directions
1. In a stand mixer fitted with a whisk attachment, whip aquafaba (liquid from a can of chickpeas) on medium-high for about 10 minutes, or until it forms stiff peaks.
2. In a mixing bowl, whisk together all dry ingredients.
3. In a separate bowl, whisk together wet ingredients – milk, melted butter, almond extract, and vanilla extract. Whisk dry ingredients into wet until mostly incorporated.
4. Blend in raspberries until batter is a soft pink color.
5. Gently fold 1 cup aquafaba into mix with a spatula until incorporated.
6. If making ombré pancakes, divide batter into 3 bowls. Add 1 ½ tbsp Suncore Foods® Pink Pitaya Powder to one bowl, 1 tbsp to another, and ½ tbsp Suncore Foods® Pink Pitaya Powder to the remaining bowl.
7. Heat a nonstick skillet to medium-low and let batter sit while skillet heats.
Cook pancakes for about 5 minutes on each side.
---