Pink Pitaya Layered Panna Cottas
Looking for a last minute dessert to wow your guests and party goers? Tackle this easy-to-make Italian classic fancified with Suncore Foods® Pink Pitaya Powder, and you're sure to impress everybody with this deceivingly complicated dessert and stunning colors! We guarantee that with just a few key , you will have a fancy-shmancy dessert in no time! People will be luxuriating in the smooth creaminess and a burst of fruity flavor that melts away spoonful after spoonful. Try it out today!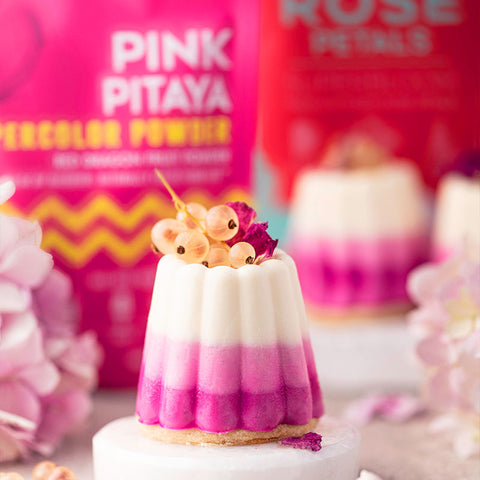 Directions
1. Mix the gelatin powder with water. Set aside.
2. Mix 1/4 cup of milk with Pink Pitaya Powder for later use.
3. Place heavy cream and white chocolate in sauce pan. Heat over medium heat whisking constantly until chocolate is completely dissolved. Add the softened gelatin powder. Stir occasionally and make sure it completely dissolved. Add vanilla extract. Pour the mixture into 3 separate bowls.
4. Take first bowl and divide the mixture evenly between 4 canele size silicone molds. Refrigerate the mold with the first layer for 30 minutes.
5. Add 1/3 of Pink Pitaya mixture to the second bowl and mix until incorporated.Divide the mixture evenly between the molds and refrigerate for another 30 minute.
6. Add the remaining Pink Pitaya mixture to the third bowl and mix until incorporated. Pour over first 2 layers dividing evenly between the molds.
7. Freeze for at least 3 hours or overnight until completely firm. Remove panna cottas from the silicone mold and garnish with berries and Suncore Rose petals.
---