Mini Velvet Red Beet Bundt Cakes
Incredibly moist and with its stunning red hue, these Red Beet Bundt Cakes will win your hearts and the best part is that it's quick and easy too! Incorporated our Suncore Foods® Red Beet Powder on the glaze and completely takes it over the top beautiful. If you love red velvet then this is a "must try"—Delicate bundt cake with earthy sweetness.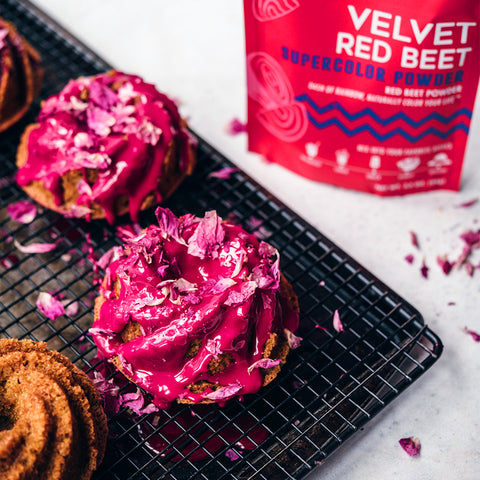 Ingredients
Makes 6
Prep Time: 20 Minutes
Cook Time: 25 Minutes
Vegan and Gluten Free
Bundt Cake:
1 ½ cups gluten free all purpose flour
½ cup oat flour
1 tsp baking powder
1 tsp baking soda
¼ tsp salt
1/2 cup Suncore Foods® Red Beet Powder
4 tbsp melted vegan butter
¼ cup unsweetened applesauce
⅔ cup non dairy milk
½ cup cane sugar
¼ cup brown sugar
1 tsp vanilla extract
1 tsp apple cider vinegar

Glaze:
1 cup powdered sugar
3 tbsp Suncore Foods® Red Beet Powder
2-3 tbsp non dairy milk
Directions
1. Preheat oven to 350˚F.
2. In a large bowl, mix together both flours, baking powder and soda, salt and Suncore Foods® Red Beet Powder.
3. In a separate bowl, whisk together melted butter, applesauce, milk, both sugars, vanilla extract and apple cider vinegar.
4. Using a spatula, stir wet ingredients into dry, stirring just until batter is smooth. Pipe into a greased mini bundt pan tin.
5. Bake for 22-25 minutes, until tops are golden brown and a toothpick comes out clean. Let cool completely.
6. Whisk together glaze ingredients until smooth. Drizzle glaze on top of each bundt cake.
---