Matcha Winter Forest Celebration
Suncore Foods, what's your favorite color? Well, our favorite color today is green! Suncore Foods® Midori Jade Matcha Powder is on display and what a display it is! This marvelous Christmas tree is made of star-shaped crispy, yet tender sugar cookies that taper in size to the very top! And no Christmas tree is complete without some twinkling lights, so a sprinkling of Suncore Foods® Sparkly Amber Passion Fruit Flakes add that extra sparkle for that extra magic! To hold it all together is a delectable green buttercream that also gives these cookies an extra creamy richness. Make this show stopping holiday centerpiece today!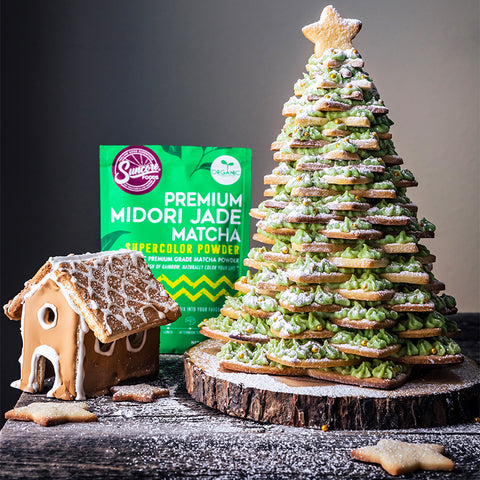 Directions
1. Cookies — Add room temperature butter and sugar in a bowl of a stand mixer and mix to combine until it is pale in color. Add the eggs and milk and mix to combine. Sift over the flour, salt, and baking powder over this and mix until well combined such that the dough starts to pull away from the sides of the bowl. Divide the dough into two, cover in cling wrap and refrigerate for 2 hours or overnight.

2. Heat oven to 375 F. Roll out the refrigerated dough to a thickness of ¼ inch using confectioners sugar to prevent sticking. Using star shaped cookie cutters, cut out cookies in different shapes. Bake similar sized cookies on a baking sheet covered with parchment paper for 8-11 minutes until edges are starting to brown. Let cookies cool on the sheet for 10 minutes before removing to a cooling rack to completely cool down.

3. Frosting — Whip room temperature butter and salt using a paddle attachment on a stand mixer until soft and light. Sift in confectioners sugar in 3 batches and mix on low after each batch has been added to incorporate. Sift over the Suncore Foods® Midori Jade Matcha Powder and mix to incorporate. Once incorporated, add the heavy whipping cream a tbsp at a time and mix to get to the desired consistency.
4. Frost completely cooled cookies using a star shaped nozzle. Stack cookies starting from the largest cookie and working towards the top with smaller cookies. Dust with Suncore Foods® Sparkly Amber Passion Fruit Flakes.
---