Marigold Passion Fruit Bundt Cakes
Bringing joy and brightening the day with oh so luscious and show-stopper Marigold Passion Fruit Bundt Cakes that just crumbled delightfully in the mouth. There's nothing like a good cake. Always comforting and it's the best thing you can do for a person you love during the upcoming festive occasion or served as the everyday tea cake. Beautiful texture, fantastic flavors made from Suncore Foods® Marigold Passion Fruit Powder & Seeds and Suncore Foods® Yellow Goldenberry Powder and simple, yet very elegantly presented. It's our kind of tropical holiday bake with our favorite delicious combination. The sky's the limit with a recipe like this using our Suncore Foods® Powder, have fun!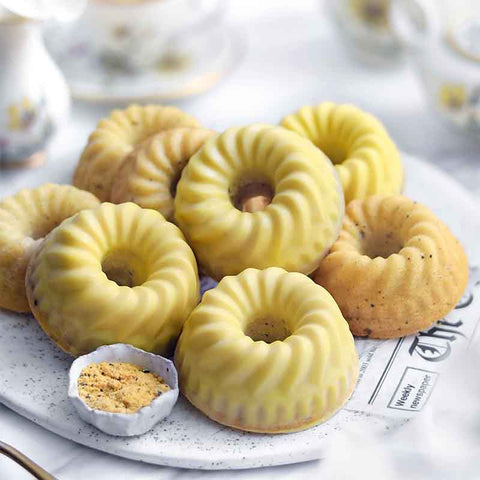 Directions
1. Preheat oven to 170c. Grease bundt pan. Set aside.
2. In a large bowl, whisk the dry ingredients together until combined. Set aside.
3. In a stand mixer, cream together butter, sugar and yogurt. Add in half of the flour mixture and mix on low. Add in milk and the remaining flour mixture. Mix on medium speed for about 1-2 mins or until smooth.
4. Transfer the batter into prepared pan. Tap gently against the counter to release air bubbles.
5. Bake for 25-30 mins or until a toothpick inserted into the center comes out clean. Remove pan from the oven and let cool in pan for 10 minutes on a wire rack. Invert cakes onto a rack with parchment paper and cool completely.
---