Light Cheese Lilac Taro Yam Bread
We're huge fans of all incredibly light and airy breads with a perfect touch of sweetness. And we could have these Light Cheese Lilac Taro Yam Breads any day of the week, any time of the day! Baked to a perfect golden brown, these sweet little buns are pillowy soft and have this wondrous shade of purple inside from Suncore Foods® Lilac Taro Yam Powder. Then to add a light, whipped cream cheese filling that is also purple? Yes please! These buns are so light, it'd be so hard to stop at just one. Prove your bread mastery with this easy to follow recipe and snag a bag of Lilac Taro Yam Powder, or any other color that catches your eye!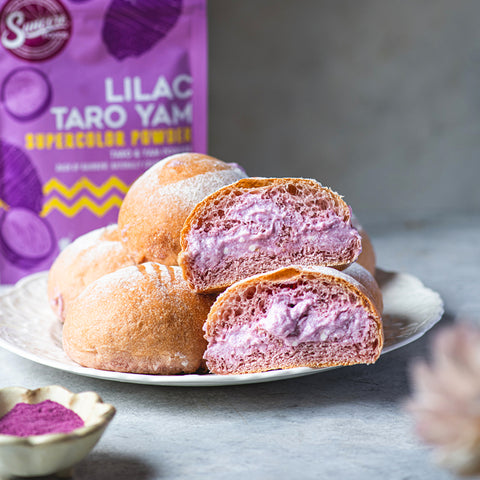 Directions
1. Make the dough. In the bowl of a stand mixer fitted with a dough hook. Mix bread ingredients together except at low speed (2~3) for 10 minutes until the dough becomes smooth. Add butter, mix at high speed (6~7) for 15 minutes until the dough is smooth, springy and just a bit tacky.
2. Cover with plastic wrap and let them rise for 1~1 1/2 hours until the doughs rise to their double size. After the rise, punch down the dough using hand. Divide into 6 pieces and let it rest for 10 minutes.
3. Shape each dough to a ball and let it rise 30 to 45 minutes.
4. Heat oven to 350 degrees F. Bake for 15 minutes and transfer to cooling rack.
5. For the filling, whisk all ingredients together and set in the fridge for 30 minutes.
6. When the bread is completely cool, pipe the filling into the bread.
---