Lemon Rose with Taro Yam Glazed Shortbread Cookies
Elevate your baking game with our Lemon Rose with Taro Yam Glazed Shortbread Cookies! Experience a divine fusion of zesty lemon, delicate rose, made with Suncore Foods® Rose Petals, this beauty is a true delight. Color your day a delightful lilac hue with Suncore Foods® Lilac Taro Yam Powder. Each bite is a burst of joy that will leave you craving more. Treat yourself to a cookie experience that's truly out of this world and don't forget to grab our blooms & powders.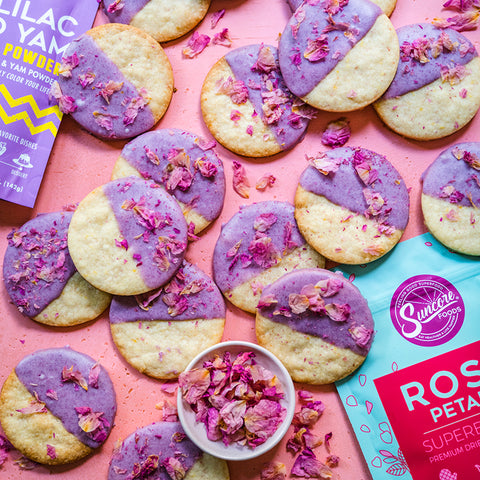 Directions
1. Add sugar, Suncore Foods® Rose Petals and lemon zest to a small food processor and pulse until well mixed.
2. Add softened butter to a stand mixer fitted with paddle attachment and cream until light and fluffy. Add sugar mixture & salt and continue mixing until fluffy, about 2 minutes. Scrape down the bowl once or twice to make sure the ingredients are evenly incorporated.
3. In a large bowl, stir together the flour and cornstarch. Add the flour mixture to stand mixer in two additions, mixing at low speed until just combined.
4. Transfer the dough to a clean work surface and knead until it comes together. Press the dough into a rectangle, then wrap tightly in plastic wrap and refrigerate for 1 hour.
5. Preheat oven to 325˚F and line two baking sheets with parchment paper.
6. Remove the dough from the refrigerator and transfer to a clean work surface. Place parchment paper on top and roll dough into a large rectangle, about ½ inch thick. Use cookie cutters to cut into cookies.
7. Bake for 15-18 minutes, rotating halfway through. Remove from oven and transfer to a wire rack to cool completely.
8. To make glaze, whisk together all ingredients until smooth. Dip the cooled cookies in glaze and top with more rose petals if desired.
---