Lemon Curd Goldenberry Thumbprint Cookies
Sweet and tart, what a classic flavor combo! These Lemon Curd Safflower Turmeric Thumbprint Cookies are the perfect size to share with friends and family, or to just snack on by yourself. Used  Suncore Foods® Yellow Goldenberry Powder in the vegan lemon curd for both color and taste. We're stocking up on these cookies for sure!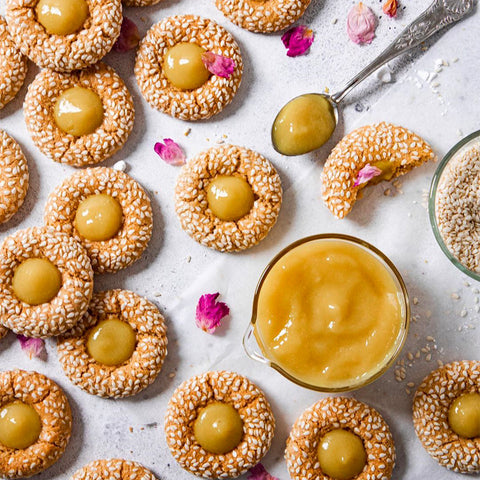 Ingredients
Makes 28 Cookies

Dry Ingredients:
80g almond flour
50g oat flour, GF certified if needed
1/4 tsp baking soda
1/4 tsp salt
1/2 tsp lemon zest

Wet Ingredients:
100g (1/2 cup) homemade almond butter
100g (4 tbsp) pure maple syrup or honey
1/2 tsp vanilla paste
3 tbsp white sesame seeds, to decorate

Vegan Lemon Curd:
1.5 tbsp cornstarch
120ml (1/2 cup) non-dairy milk (I used almond)
60ml (1/4 cup) fresh lemon juice (about 2 lemons)
50g (2 tbsp) maple syrup
2 tsp organic lemon zest
1/8 teaspoon turmeric powder
1/4 teaspoon Suncore Foods® Yellow Goldenberry Powder
4 tbsp maple syrup
1/4 tsp salt
Directions
1. In a small bowl, combine the dry ingredients.
2. In another bowl, whisk together all the wet ingredients until well combined. 
Combine with the dry ingredients.
3. Shape about half tablespoon of the cookie dough into a ball and roll into sesame seeds. Repeat with all of the dough.
4. Place the balls on a lined baking sheet and slightly press the to flatten.
Press a teaspoon in the middle of the cookies to make the dent.
 Refrigerate for about 15 minutes.
Pre-heat the oven to 180 ºC (355 ºF). Bake the cookies for about 8-9 minutes.
5. When you pull them out of the oven, immediately press a teaspoon into the cookies.
6. Allow the cookies to cool on the baking sheet for about 10 minutes, then transfer to a cooling rack. The cookies keep well in an airtight container.
We recommend filling them right before serving to avoid them becoming mushy.
7. For the vegan lemon curd. Add all the ingredients to a small saucepan and whisk well to combine. Heat over medium heat whisking continuously until the curd starts to thicken. Remove from heat and let cool down to room temperature, stirring regularly. Cover with plastic wrap (in contact with the surface) and place in the refrigerator for one hour. Give it a good stir before using. Use a pastry bag to fill the cookies, right before serving.
---