Lemon Coconut Goldenberry Bliss Balls
These sweet & tartlicious Lemon Coconut Goldenberry Bliss Balls are the perfect anytime snack! They're easy to make, and blissfully satisfying! Made with Suncore Foods® Yellow Goldenberry Powder to create these scrumptious bite-sized bliss balls and topped with coconut chips for the crunch. Seriously, you'll be dreaming of these after eating them.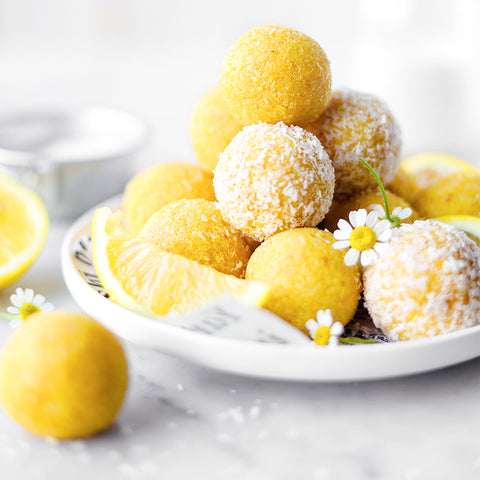 Ingredients
1 cup desiccated coconut 
1/2 cup cashew nuts
Zest and juice of 1 lemon
1-2 tbsp rice malt syrup
2 tbsp coconut butter
1/2 tsp turmeric powder
2 tsp Suncore Foods® Yellow Golden Berry Powder
More desiccated coconut for coating 
Directions
1. Add all ingredients into a food processor and pulse until come together.
Take 1-2 tbsp of the coconut mixture and roll mixture into bite sized balls.
2. Roll balls into more coconut if desired. Enjoy!
---