Layered 5-Colored Pink PItaya & Ruby Red Radish Smoothie
Smoothies for breakfast? Groundbreaking! Keep it cool with this exquisitely layered 5-colored pink pitaya & ruby red radish smoothie. This is the prettiest smoothie you'll ever see! Achieve this pleasing, lovely pink ombre effect with Suncore Foods® Pink Pitaya & Ruby Red Radish Powders. This smoothie can be made of a mixture of yogurt, apple, or any of your most favorite fruits. Level up your smoothie game with this elevated recipe. Raise your glass, sip back and relax.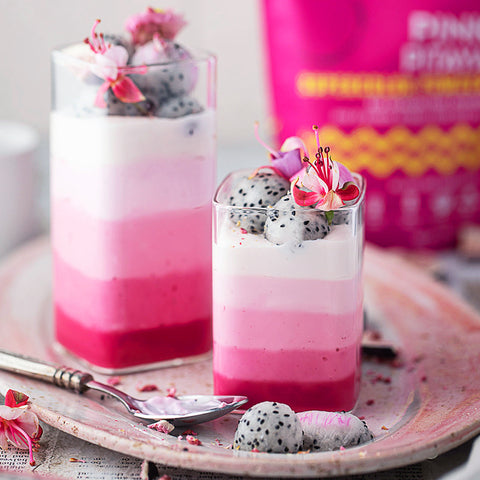 Directions
1. Dissolve Suncore Foods® Pink Pitaya Powder & Suncore Foods® Ruby Red Radish Powder in water.
2. Peel and core apples, place with yogurt and vanilla extract into high-speed blender. Blend until smooth.
3. Divide smoothie into 5 parts. Add half of ruby red radish mixture to the first part, then half of the remaining mixture to the second, then half of the remaining half to the third part, and remainder add to the fourth glass. The fifth portion leave white.
4. Divide all five parts of smoothie between glasses beginning with the darkest one to the lightest.Carefully spoon the smoothie into the glass creating the layers. Garnish with fruits or berries if desired.
---