Ebony Carrot Chocolate Chips Buns
Need a chocolate fix?! Grab your plate and feel free to bite into these delicious buns, you will surely fall head over heels in love! Soft and airy buns with just the right amount of chocolates and isn't the color very tempting?? We are completely obsessed with this gorgeous purple chocolatey buns made from scratch incorporating Suncore Foods® Ebony Carrot Powder to these buns for its majestic & mesmerizing purple color! The results are undeniable heavenly and guaranteed to satisfy your cravings. As always, you can switch out the Suncore Foods® Ebony Carrot Powder for any of our other powders to make buns of any colors? Happy Baking!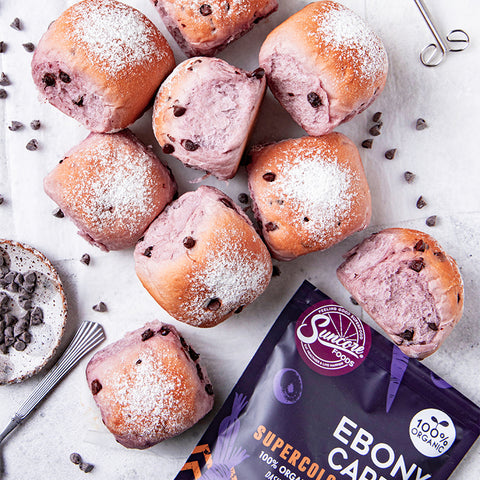 Ingredients
310g (2 1/2 cups) bread flour
1.5 tsp Suncore Foods® Ebony Carrot Powder
16g (2 tbsp) dry coconut milk
140 ml (1/2 cup + 1 tbsp) lukewarm soy milk
7g (1 packet / 2 tsp) active dry yeast
30g (2 1/2 tbsp) light brown sugar
5g (1 teaspoon) salt
60g (4 tbsp) melted vegan butter
80g chocolate chips
Directions
1. Add flour, Suncore Foods® Ebony Carrot Powder, sugar, dry milk and yeast to the bowl of a stand mixer. Whisk to combine.
2. Add milk and butter and mix with a spatula until the dough just comes together. Cover with plastic wrap and let rest for 20 minutes.
3. Fit the mixer with the dough hook. Add salt. Start at low speed, then gradually increase.
4. Knead for 10 to 12 minutes, until the dough is very smooth. Stop the mixer in the middle and scrape the dough from the sides of the bowl. Test the dough by pulling a piece of it using both of your hands. It should stretch into a very thin and translucent sheet. The dough should be wet and a bit sticky. Shape into a ball.
5. Let cool down the dough a little, then add chocolate chips and quickly knead to incorporate.
6. Lightly grease a big bowl with oil. Place the dough into the bowl. Cover with plastic wrap. Let rise until the dough doubles in size, about 1 hour.
7. Line a 20x20 cm baking pan with parchment paper.
8. Punch the air out of the dough. Transfer it onto a clean surface. Divide the dough into 3 even strips, then cut each strip into 3 pieces. You should end up with 9 even pieces (70g each).
9. Shape each piece into a ball by pinching the dough from all sides into the center using your fingers. Then roll the dough in a circular motion with your palm against the table, until it forms a round ball. Place the dough balls into the pan, evenly spaced, in a 3-by-3 array.
10. Cover the baking pan with plastic wrap. Let rise for 35 to 45 minutes, until doubled in size.
11. Preheat the oven to 175C 350° F.
12. Right before baking, gently the buns with a thin layer of corn starch.
13. Bake the buns on the middle rack for 20 to 25 minutes, until the top turns golden brown.
14. Let the buns rest in the pan for 5 minutes, then transfer onto a cooling rack.
15. Serve warm or at room temperature.
---