Crispy Fried Hemp Seeds Cauliflower Popcorn
Looking for a delicious, vegan & crispy snack? Well, you've come to the right place because these Crispy Fried Hemp Seeds Cauliflower Popcorn fit the bill deliciously! Coated with our Suncore Foods® Hemp Seeds for a long lasting crunch. Each of these cauliflower popcorn bites that have an amazing texture and flavor that will have you coming back for more!! Customize these to your own liking by adding different seasonings and pairing it with your favorite sauces!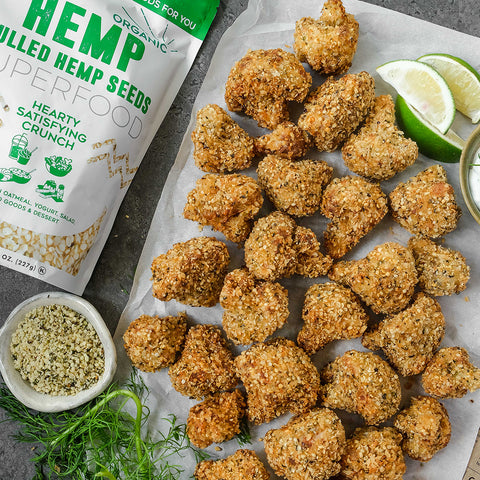 Ingredients
Serves 3 to 4

2 Medium Heads Cauliflower (900g)

Batter:
3/4 cup all purpose flour or gluten-free flour like buckwheat as needed
1 1/2 tbsp cornstarch
1 1/2 tsp baking powder
1 1/2 tsp salt
1 cup room temperature water, add 1-2 tbsp water as needed

Coating:
1 1/4 cup Suncore Foods® Hemp Seeds
1 1/4 cup breadcrumbs
1 tsp paprika powder
Dash of black pepper
Pinch of cayenne powder, optional

For serving:
Dipping sauce of choice, we mixed some chopped fresh dill into vegan mayo
Lime, for squeezing
Directions
1. In a bowl, mix the ingredients for the batter until it turns into a smooth, thick consistency. If you think the batter is too thick, add 1-2 tbsp more water and mix well. The batter should be similar to a crepe batter consistency, but not too runny that it doesn't stick to the cauliflower.
2. Evenly coat the florets in the batter. You can do this in batches.
3. In another bowl or plate, add in the Suncore Foods® Hemp Seeds, bread crumbs, paprika, pepper, and cayenne, if using.
4. One by one, place each cauliflower from the batter into the breadcrumb mixture. Coat well. Press down the bread crumbs on the cauliflower. Set aside once coated.
5. Heat a frying pan with some oil. Once hot, place the cauliflower florets and cook until golden brown, moving it around on each side every 2 minutes or so.
6. Once golden brown, set aside on a strainer to drain excess oil or you can put this on a plate with paper towels. Let cool for a few minutes then enjoy with your favorite dipping sauce!
7. Baking option: Heat oven to 350 F. Bake the cauliflower for 35-40 minutes or until crisp. Flip halfway through cooking.
---