Coconut Ocean Blue Spirulina Tart
Our eyes are getting lost as we wander into the beautiful bluuuue of this Coconut Aqua Blue Spirulina Tart using our Suncore Foods® Aqua Blue Spirulina Powder, Suncore Foods® Midori Matcha Powder, and Suncore Foods® Emerald Pandan Leaf Powder to achieve this breathtakingly aqua blue ocean hue. The crispy crust is also made with our Suncore Foods® Snow Quinoa Flakes!  Have a slice of this gracious tart and completes your taste buds.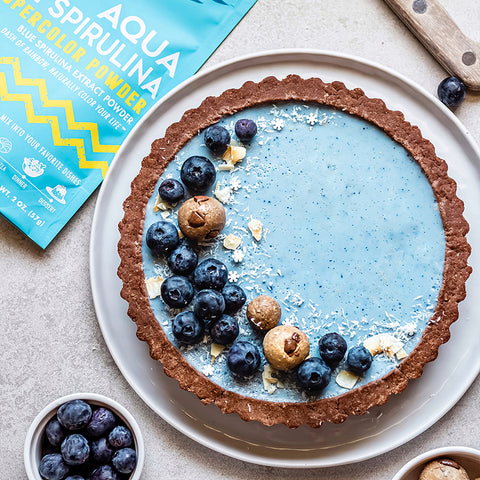 Directions
1. Make the Crust — in a food processor, blend all the crust ingredients into a sand-like, slightly sticky mixture. Press into a 7-8 inch tart pan. Set in the fridge to chill.
2. Male the Filling — In a pot on medium heat, combine the milks. Bring to a simmer and stir well. Stir in remaining ingredients until well-combined, then turn off the heat. Optionally, pour through a mesh sieve into a bowl for a smoother consistency. Pour into the prepared tart crust and place in the fridge for 2+ hours to set before serving. Enjoy!
---