Clementine Orange Carrot Mochi
Orange you guys obsessed with this creative dessert? This Clementine Orange Carrot Mochi is jaw-dropping and has us drooling! Used a mixture of Suncore Foods® Red Beet and Yellow Goldenberry Powders to get the perfect clementine shade! So vibrant and gorgeous! With the wide range of bright hues, your color palette is endless! Bring out your inner artist.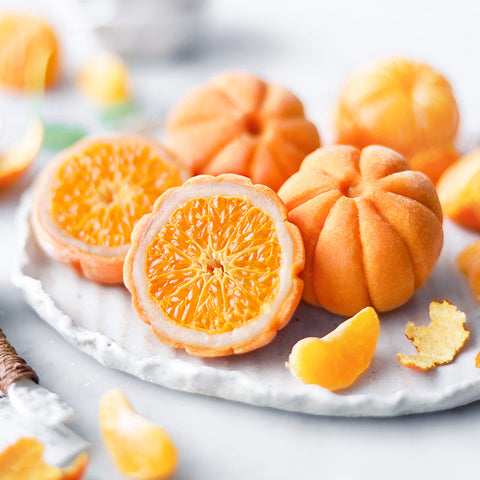 Directions
1. Wrap the clementine with bean paste. Cover with plastic wrap and set aside.
2. Combine the rice flour, sugar in a microwave safe mixing bowl. Add in water, mix until combined. Put the bowl into a microwave, heat it up for 1 min. Take the bowl out and stir the mixture with a heatproof spatula. Back into the microwave and heat it up for 1 min. Remove the bowl from the microwave. Keep stirring with the spatula, back into the microwave and heat it up for 30 secs, add the dissolved Suncore Foods® Powders keep stirring until it thickens and comes together into one smooth.
3. Flour work surface and hands with cornstarch to prevent sticking. Put the mochi dough on the floured surface (you can start with half of the dough and cover the half with plastic wrap to keep it from drying out ) Cut the mochi into 12 pieces. Flatten the mochi into a circle. (use more cornstarch if needed).
4. Put some starch on hands. Then place flatten mochi dough and put the covered clementine on top of it. Wrap it with pinching the bottom closed.
5. Use a knife to gently score the mochi into clementine pattern. Poke a hole on top of each clementine.
6. Wrap each individual piece of mochi in plastic wrap. Keep in a container and place it in the fridge to keep it from drying out. 
---