Pink Pitaya Frosting Chocolate Cake
Loving this chocolaty dessert is a piece of cake! Serve this Pink Pitaya Frosting Chocolate Cake  to your friends and family, they'll definitely be in for a tasty delight! This frosting is made using Suncore Foods®️ Pink Pitaya Powder to create this gorgeous glaze. Who wants a slice?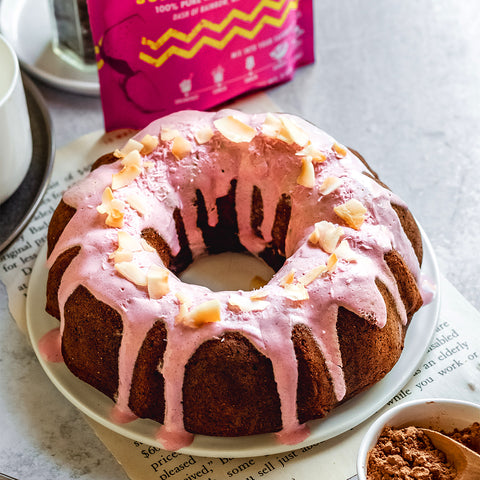 Ingredients
Chocolate Cake (A 3-Cup Cake Pan)

Dry Ingredients:
1½ cups whole wheat flour, or use gluten-free if needed
½ cup cocoa powder
1 tsp baking soda
½ tsp baking powder
⅛ tsp sea salt 

Wet Ingredients:
¾ cup coconut sugar
¼ cup nut/seed butter
¼ cup coconut oil, or more nut butter
1 tsp vanilla extract
1 cup plant-based milk
2 large ripe bananas, mashed

Pink Pitaya Frosting:
¾ cup powdered sugar
½ cup plant-based yogurt
2 tsp Suncore Foods® Pink Pitaya Powder, plus more as needed
Directions
1. Chocolate Cake – Preheat oven to 375F/190C and grease your cake pan. In a large bowl, whisk together the wet mixture: mashed bananas, sugar, nut/seed butter, oil, vanilla, and milk. Then, sift in all the dry ingredients. Fold the batter until combined and pour into the cake pan. Bake for 45-50 minutes, or until an inserted toothpick comes out clean. Let cool in the pan for 10 minutes before transferring to a wire rack to cool completely.
2. Pink Pitaya Frosting – Whisk together the sugar, yogurt, and Suncore Foods® Pink Pitaya Powder in a bowl. If needed, add a splash of water to thin out the mixture. Drizzle the glaze over the cake as desired & enjoy!
---