Butterfly Pea Fried Quinoa Red Beet Lemon Cream Dressing
Are you looking for a colorful, flavorful & plant-based hearty meal? This Butterfly Pea Fried Quinoa Red Beet Lemon Cream Dressing is simply the yummy answer to your search. Made with our Suncore Foods® Rainbow Quinoa Seeds topped with a creamy lemon beet dressing using Suncore Foods® Red Beet Powder & incorporating both Suncore Foods® Blue Butterfly Pea & Aqua Blue Spirulina Powders to achieve this dreamy blue hue! Get your spoon ready and dig into this goodness. Have fun & enjoy!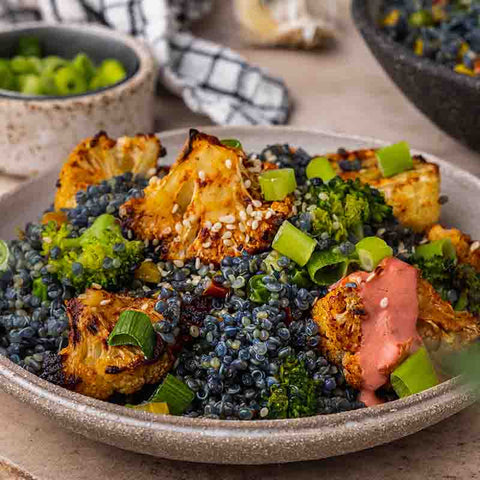 Directions
1. Butterfly Pea Quinoa — Combine all ingredients in a saucepan and follow package instructions to cook the Suncore Foods® Rainbow Quinoa Seeds. Once ready, keep saucepan covered and set aside.
2. Fried Quinoa — Place a large pan on medium heat. Once hot, drizzle some sesame oil and spread it around evenly. Add garlic and ginger and cook for 1 minute until the garlic starts to turn golden-brown. Add veggies and cook while stirring regularly until veggies are cooked through. Mix in quinoa and add tamari and cayenne powder. Taste the fried quinoa and season with salt accordingly.
3. Crispy Roasted Cauliflower — Preheat oven to 4250 F and line a baking tray with parchment paper. In a large bowl, combine all ingredients and mix well to ensure the cauliflower is properly coated with the seasonings. Transfer cauliflower to the baking tray and bake on the middle or top rack for 20-25 minutes until cooked through and crispy. Baking time can vary depending on the oven and size of cauliflower florets. Serve with fried quinoa.
4. Creamy Lemon Red Beet Dressing — Place all ingredients in a blender and blend until smooth and well combined. Serve by pouring the dressing over the fried quinoa and roasted cauliflower or on the side.
---