Blossom Cookie Sandwiches
Step into a world of sweetness and joy with our Blossom Cookie Sandwiches! These whimsical blooming treats are a burst of flavor and fun, perfect for satisfying your sweet tooth. Our buttery delicious cookies are lovingly crafted with a touch of Suncore Foods® Purple Sweet Potato, Blue Butterfly Pea, and Midori Jade Matcha Powders, making these blooming with delightful purple hues. With a luscious white chocolate ganache center sandwiched between two cookies, every mouthful is a scrumptious surprise. Treat yourself to a moment of pure bliss and try this wonderful recipe. Let the blossoms of happiness unfold with every delicious bite!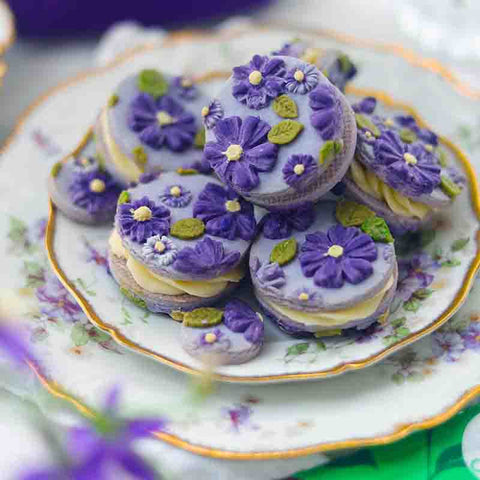 Directions
1. In a food processor, add crust ingredients pulse until a dough ball forms. Color with Suncore Foods® Purple Sweet Potato Powder, Suncore Foods® Blue Butterfly Pea Powder, and Suncore Foods® Midori Jade Matcha Powder. Refrigerate the doughs for at least 10 minutes.
2. Make the cookie flowers using a mold. Place in the freezer for 15 mins or until hardened.
3. Roll out the dough onto parchment paper. Place the flowers on top, press with the fingers. Refrigerate the rolled out dough for 20 minutes.
4. Preheat the oven to 170c. Cut out cookies using cookie cutters. Transfer to parchment-covered baking sheets. Bake for 13 minutes. Remove from the oven and let fully cool before moving.
5. Assemble, pipe chocolate ganache into each cookie and sandwich together.
---