Baby Blue Daisy Flower Macarons with Lemon Cream
We love our macarons especially a colorful twist, mouthwatering delicious macarons that look like they came straight from our garden — are sure to brighten the new week ahead!! These Blue Daisy Flower Macarons are delicately made with a crispy baby blue exterior cookie sandwich made with Suncore Foods® Powders (Aqua Blue Spirulina and Blue Butterfly Pea) to achieve the soft yet magnificent hue and filled with a sweet & tangy lemon buttercream that will leave your taste buds wanting more. They are perfect for dressing up a holiday dessert table. Add this recipe to your feel-good desserts to make for the holiday season, and experiment with other colors and flavors we offer at SuncoreFoods.com! The possibilities are endless. Let your creativity flow and have some fun!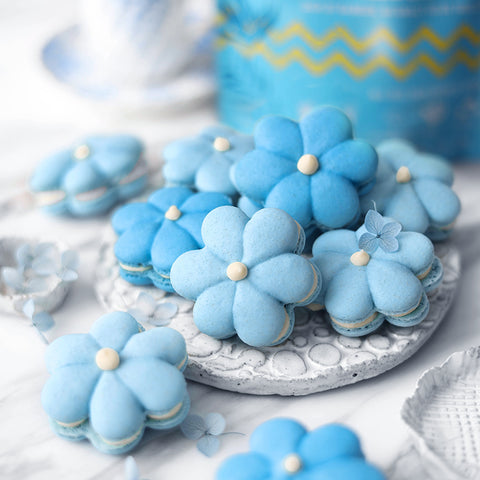 Directions
1. Prepare the Aquafaba — Strain the liquid from the canned chickpeas and weigh to 150g. In a saucepan cook chickpea water on a very low heat and reduce to 60g, stirring occasionally. When it reaches 60g, transfer to a bowl, cover in plastic wrap and refrigerate overnight.
2. Make the Macaron — Combine the powdered sugar and almond meal and place in a food processor. Blend to achieve a finer consistency then pass through a sieve. Set aside. Whisk the room temperature aquafaba with the cream of tartar and one third of the sugar until a medium peak. Gradually add in the remaining sugar and continue whisking for 5 mins. Fold the almond powdered sugar mixture through the meringue by hand. Add the sweet potato powder and whisk until the mixture is smooth and shiny. Pipe macarons on a baking sheet, let sit at room temperature for 45 minutes before baking. Bake at 150°C for approximately 13-15 mins. Allow macarons to cool completely.
3. Filling ⁣— Beat together the sugar, butter, lemon juice, lemon extract and salt. The mixture will seem very dry at first, but will eventually begin to clump together. Add more lemon juice if needed, continue beating until smooth.⁣
---