Watermelon Joconde Donuts
Cute as can be, these Watermelon Joconde Donuts are a tasty mind-boggler! Joconde cakes, called the "Mona Lisa" of cakes, are highly regarded by French pastry chefs and are the basis of many classic desserts. They are almond sponge cakes that can be easily transformed into beautiful and whimsical creations, especially great for layering. Just look at the perfectly clean, crisp lines between each color! The watermelon red from Suncore Foods® Ruby Red Radish Powder and the green from Suncore Foods® Midori Jade Matcha Powder are striking and superbly distinct from each other. And believe it or not, these Joconde Donuts are a single-bake! Yup, just pour each color, layer by layer, pop it in the oven, and voilà, c'est fini!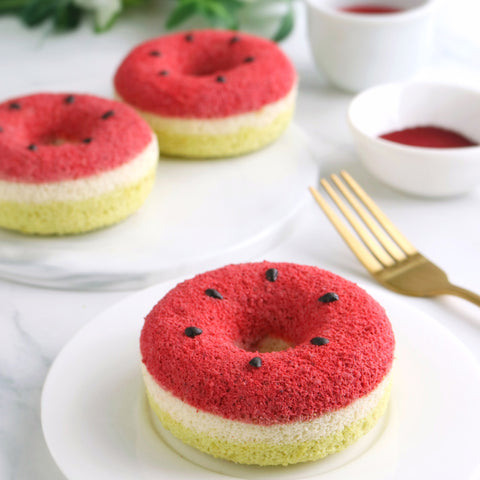 Directions
 1. Combine sifted almond flour, icing sugar and cake flour with whole egg and vanilla. Whisk till fluffy. Add in melted butter. Divide the batter 2 (red): 1 (plain): 1 (green). Add in Suncore Foods® Powders and mix till desired colors.
2. In another clean mixing bowl, whisk egg white with superfine sugar till firm peaks. Divide the meringue 2: 1: 1. Fold in the meringue in 2 parts to the above batter till well incorporated.
3. Fill the donut molds, red first, followed by plain and green batters. Bake at140C for 20+ mins.
---