Vanilla Fig Pound Cake
Add some excitement to your loaf cake by incorporating some of our delicious Snacks! Our snacks are not only great by itself, but they can also be added into some of your favorite recipes! We are obsessed with this pretty Vegan Vanilla Fig Pound Cake and how it infused our brand NEW Suncore Foods® Fig Chips into this cake, using it as a topping as well! We love seeing creative and tasty ways to use our snacks, so grab a bag and show us what you would make!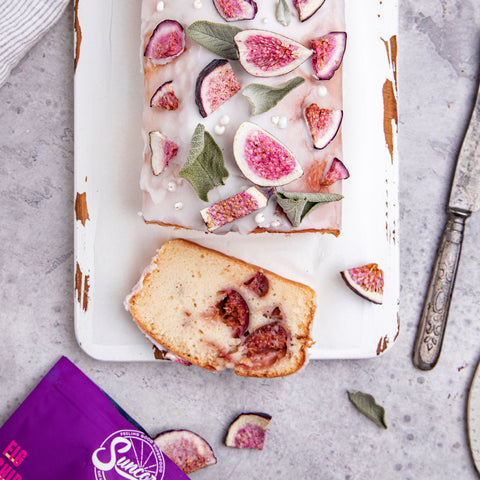 Ingredients
Make for One 25cm Pound Cake

Wet Ingredients:
130g or 1/2 cup yogurt/ plant yogurt of choice
180 ml or 3/4 cup non dairy milk
100g or 1/2 cup sugar of choice
1.5 tsp vanilla bean paste
55ml or 4 tbsp neutral oil

Dry Ingredients:
250g or 2 cups all purpose flour
2 tsp baking powder
1/4 tsp salt

Add-ins:
160g (about 5 medium) Suncore Foods® Fig Chips chopped
2 tsp flour to coat the figs

Glaze:
160g powdered sugar
2 tbsp plant milk
Suncore Foods® Fig Chips and sage to decorate
Directions
1. Preheat the oven to 350 degrees F / 175 C degrees. Grease and line a 25x10cm loaf pan with parchment paper.
2. Toss Suncore Foods® Fig Chips into 2 tsp flour until well coated. Combine all the wet ingredients in a large bowl and stir until sugar has dissolved.
3. In another bowl, whisk all the dry ingredients. Pour the wet mixture over the flour mixture and whisk until just combined.
4. Gently fold chopped Suncore Foods® Fig Chips into cake batter, until just combined. Drop the batter into prepared pan.
5. Bake for 50-60 minutes or until a toothpick inserted near the center comes out clean.
6. Let cake cool 15 minutes in the loaf pan before transferring to a cooling rack. Let it cool completely before slicing/glazing.
7. Glaze — Mix the powder sugar with plant milk and lemon juice. Spoon glaze over cooled cake.
---