Tropical Paradise Passion Fruit Cake
An everyday cake that is wonderfully moist and full of tropical flavor. This Tropical Paradise Passion Fruit Cake is the perfect treat to transport you to a tropical beachside vacation in every bite! Beautiful, light, and moisture texture with the most sweet & tangy flavors made from Suncore Foods® Marigold Passion Fruit Powder & Seeds with Sparkly Amber Passion Fruit Flakes.  The perfect showstopper bake for any occasion.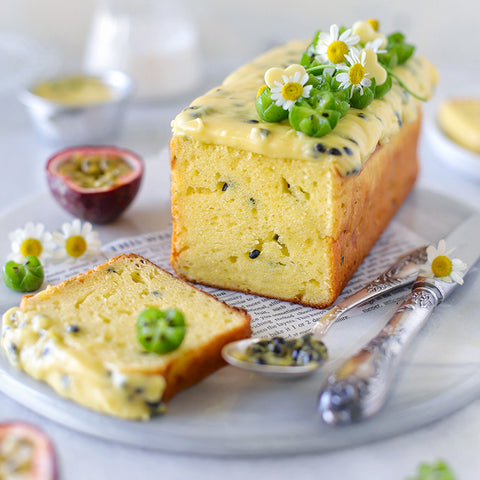 Directions
1. Preheat the oven to 350°F.
2. Prepare your loaf pan by greasing it with coconut oil.
3. Sift and whisk your dry ingredients (i.e. flour, baking powder and salt) in a medium bowl.
4. Use a large bowl to beat the wet ingredients (i.e. coconut yogurt, eggs, passion fruit pulp, passion fruit flakes and oil) + sugar). Mix until you get a smooth batter.
5. Gradually start adding the dry batter to the wet one and fold it in to combine them properly. Avoid over mixing to retain its consistency.
6. Pour the batter into the loaf pan.
7. Pop the pan into the oven. Bake for 40 – 45 minutes (or until a toothpick inserted in the center comes out clean).
8. Take it out of the oven once done and let it cool inside the pan for approximately 10 mins.
9. Transfer the loaf to a wiring rack to cool completely.
10. To make the white chocolate drizzle, heat the chocolate, passion fruit and passion fruit flakes a in a bowl set over a pan of simmering water. Allow the white chocolate to melt and stir together.
11. Drizzle the white chocolate mixture over the cake and allow to set slightly before slicing and serving.
---