Apple Chia Coconut Hemp Seeds Granola
There's nothing better than the smell of homemade granola fresh out of the oven! This Apple Chia Coconut Hemp Seeds Granola is perfect to enjoy on its own or pairs wonderfully with your favorite yogurt or chia pudding!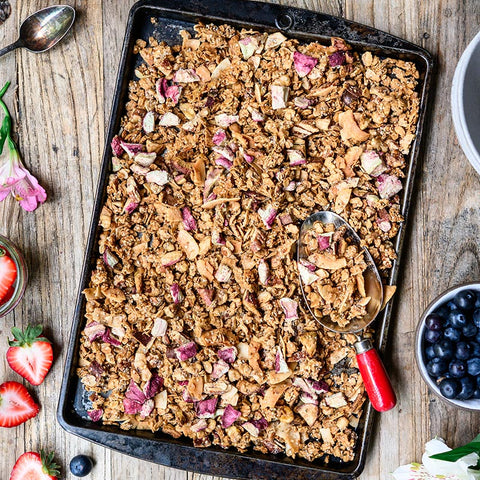 Ingredients
2 cups old fashioned rolled oats
½ cup Suncore Foods® Hemp Seeds
3 tbsp Suncore Foods® White Chia Seeds
1 tsp cinnamon
¼ tsp ginger (powdered)
¼ tsp salt 
3 tbsp melted coconut oil
½ cup maple syrup, divided
¼ cup almond butter
2 tsp vanilla extract
¾ cup diced apples
½ cup coconut chips
½ cup chopped walnuts
½ cup chopped pecans
Directions
1. Preheat oven to 300 F.
2. Melt coconut oil, and then add ⅓ cup maple syrup, almond butter, and vanilla extract to the bowl and whisk until well combined. Set 2 tbsp of mixture aside.
3. Add chopped pecans, walnuts, and coconut chips to a bowl. Stir in 2 tbsp of coconut oil and almond butter mixture and coat well.
4. Add oats, Suncore Foods® Hemp Seeds, Suncore Foods® White Chia Seeds, cinnamon, and salt to a large bowl and stir well. Add remaining coconut oil mixture and stir until everything is well coated.
5. Spread onto a parchment paper-lined baking sheet and bake for 30 minutes stirring halfway through.
6. After 30 minutes, remove granola from oven and stir in nut and coconut and mixture and pour remaining 2 tbsp of maple syrup over the top, tossing well. Bake for another 10 minutes, stirring halfway through. Stir in ¾ cup chopped apple chips and let cool.
7. Remove from oven and let cool completely before breaking up into clumps. Store in airtight container in pantry for up to 2 weeks.
---