Red Beet Velvet Bliss Balls
Who could resist the vibrant red velvet color? Isn't it just so blissfully pretty! The gorgeous color of these Red Beet Velvet Bliss Balls doesn't come from any artificial coloring! Oh no, it comes instead from a perfectly Suncore Foods® Red Beet Powder to create the stunning color and a pop of rich flavor!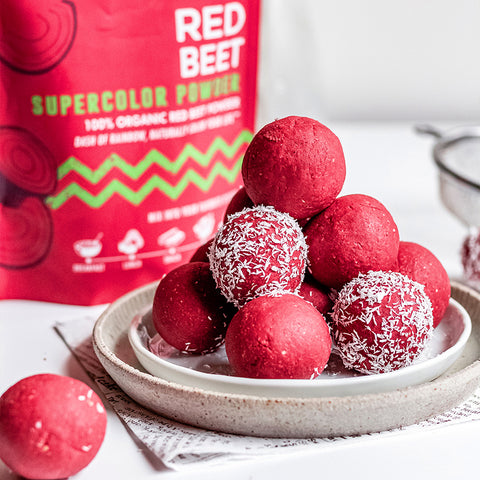 Ingredients
-1/4 cup nut/seed butter
-1/2 cup unsweetened applesauce
-2 tbsp maple syrup
-1 scoop vegan protein powder
-1/2 cup shredded coconut
-1 cup rolled oats, ground into flour
-1 tbsp cocoa powder
-1 tbsp Suncore Foods® Red Beet Powder
Directions
1. In a food processor, combine all the above ingredients and blend into a homogeneous mixture. If too dry, add in a few tablespoons of water to help with blending.
2. Roll the mixture into balls and place on a tray. Let set in the fridge for 15 minutes before serving. Enjoy!
---