Rainbow Gnocchi
Radiate pasta-tivity with this whimsical Rainbow Gnocchi! A piping hot plate of gnocchi is enticing enough, but the added fun of rainbow colors will excite even the pickiest eaters! Your kiddos will come running to the dinner table! There are a bunch of Suncore Foods® Powders to add some magic to brighten the dinner table and the faces of deserving diners. Eat your heart out and always make it exciting with colors! Always be a rainbow.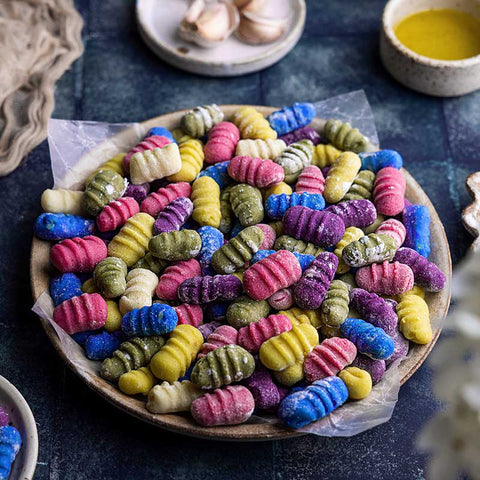 Directions
1. Rainbow Gnocchi — Peel and boil potatoes until cooked through and fork tender. Drain the water and mash potatoes. You should have approximately 785 g of mashed potatoes. Separate mashed potatoes into 6 portions of approximately 130 g each. Work with 1 portion at a time. Once all the potatoes are used, you should have 6 colors of gnocchi: Purple, blue, yellow, pink, green and the natural dough color. Generously dust a work surface with tapioca flour. Combine 130 g of mashed potatoes with 40 g of 1-to-1 flour and form a dough. Create a small well in the dough. Dissolve 1 Supercolor Powder into 2 g of olive oil and create a thick almost-paste-like solution. Add the solution to the well and knead the paste into the dough and form a small dough log. While kneading dust your hands or the surface with tapioca flour or if the dough is too sticky, add some 1-to-1 flour to the dough, 1 tbs at a time. Cut the dough log into 3 portions. Create a rope using 1 portion, approximately 8-9" in length. Cut small pieces along the dough rope of approximately ¼ - ½" in length. Use the small pieces as they are or roll each piece down a fork to create ridges. Follow steps 3-5 for the remaining Supercolor Powders. And follow steps 3 and 5 (not 4) for the non-colored dough.

2. Bring a pot of salted water to boil.

3. While the water is heating up, place a pan on medium heat. Once hot, add butter and spread it around evenly. Add garlic, thyme, mushrooms and salt and cook until the mushrooms are cooked through.

4. Add 300 g of gnocchi to the pot of hot water. Very gently stir the gnocchi so it doesn't stick together. Cook until the gnocchi floats to the surface. Once at the surface, count to 10 and very gently strain the gnocchi, preferably using a strainer spoon. Save 1-2 tbsp of pasta water.

5. Transfer gnocchi along with a little bit of pasta water to the pan and gently mix it in. Cook for 2-3 minutes until the gnocchi is very lightly browning on one side. Gently shake the pan once or twice while cooking.

6. Garnish with fresh thyme or parsley, cheese of choice and freshly ground black pepper before serving.
---