Rainbow Crepe Cake with Chia Jams
This playful show stopping crepe cake has it all: A stunning layers of colorful rainbow crepes with chia jams in between and is perfect for any special celebration! The stunning colors are all using Suncore Foods® Powders: Midori Jade Matcha, Red Beet, and Yellow Goldenberry combined with Suncore Foods® Black Chia Seeds! Create this melt-in-your-mouth delicate crepe cake for your next celebration.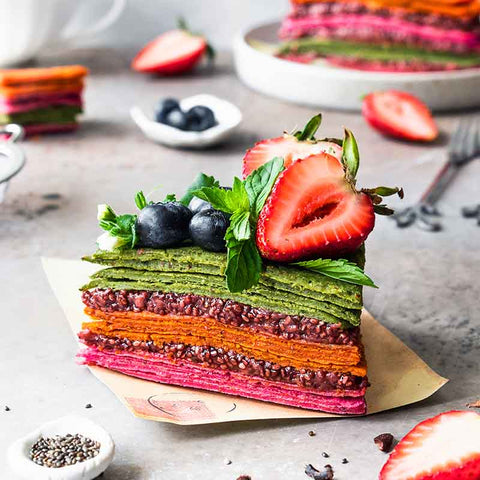 Directions
1. Strawberry and Raspberry Chia Jam – Place strawberries, raspberries and water in a saucepan and bring to boil. Continue to cook for 5 minutes. Reduce heat and mix in sugar and vanilla. Simmer for 30 minutes while stirring regularly and gently mash the fruit while it cooks. Remove from heat and allow the jam to cool completely. Once ready, add Suncore Foods® Black Chia Seeds and mix well. Refrigerate in an airtight container.

2. Rainbow Crepe Cake – Place all ingredients except oil in a blender and blend on low for 10-20 seconds until well combined. Be careful not to over-blend. This will make roughly 5 cups of batter. Equally distribute batter into 3 separate bowls, approximately 1 + 2/3 cups per bowl. Fold in 1 Supercolor per bowl and mix well. Place a pan on medium heat, once hot, drizzle some oil and spread it around evenly. Start with any Suncore Foods® Powder bowl and add ¼ cup of batter onto the pan. Upon adding the batter, lift the pan and tilt it from side to side in a slow circular motion, allowing the batter to spread out as much as possible. Place the pan back onto the heat and cook for 1-2 minutes on both sides or until you start to see air bubbles and the sides start to brown. Repeat this process until the batter is finished. Drizzle some more oil as and when needed. Assemble crepe cake – Starting with any Suncore Foods® Powder, place 3-4 crepes on a serving dish and spread 1-2 tbs of chia jam. Continue this process and spread chia jam after every set of 3-4 crepes, using up all the crepes and layering the entire stack. Serve crepe cake with fresh fruit and/or maple syrup.
---