Purple Sweet Potato Cookies & Ganache
vLove and cookies are alike we can never get enough of either! Just one glance at these exquisite mix-n-match Purple Sweet Potato Cookies with Ganache had us falling in love! Indulging in soft yet crisp butter cookie sandwiches filled with a velvety ganache is what dreams are made of! Color your day with this elegant purple with Suncore Foods® Purple Sweet Potato Powder. We just checked--it's time for cookies!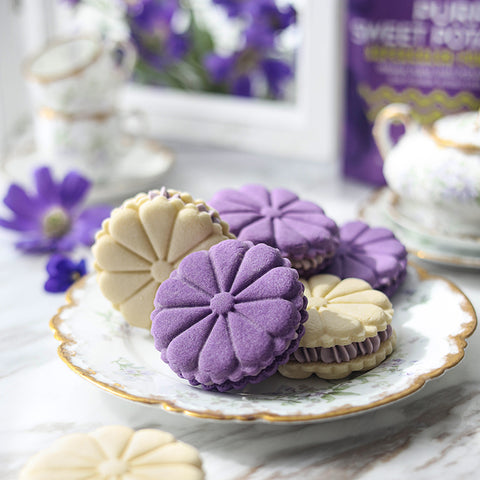 Directions
1. Prepare the Ganache — Heat the whipping cream in a saucepan. Pour the hot cream over the chocolate, add Suncore Foods® Purple Sweet Potato Powder, mix until smooth. Place plastic wrap over it so it is touching the surface of the ganache or place it directly into a disposable piping bag. Place ganache in the fridge until needed.
2. Cookies — In a large bowl add flour, powdered sugar , salt and butter, mixing until combined. Add in milk, vanilla extract, dissolved Suncore Foods® Purple Sweet Potato Powder and mix until the dough comes together. Wrap cookie dough with cling wrap and refrigerate for 20 mins. Preheat oven to 170c. Roll out cookie dough, use cookie stamp to press the dough, cut out the dough using a cookie cutter. Bake for 12 minutes. Allow cookies to cool completely.
3. Assemble, pipe chocolate ganache into each cookie and sandwich together.
---