Purple Pearl Marshmallows
Everything is s'more fun with these delightful Purple Pearl Marshmallows! These little perfectly made pillowy balls are made out of happiness. We go together live chocolate and marshmallow, with a sweet chocolate coating, we cannot stop munching on these delicious snacks. Elevate your ordinary marshmallow with Suncore Foods® Purple Sweet Potato Powder to achieve this lovely purple hue. Enjoy thIs tasty snack with your friends and family. Try this fun & delicious and live life in colors with our Suncore Foods® Powders. Spread joy, take a bite!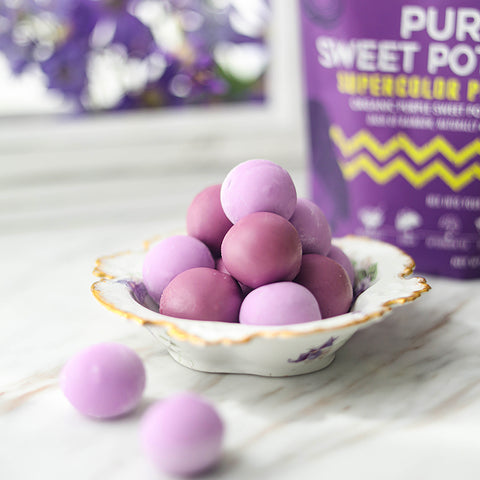 Directions
1. In a stand mixer, add chilled aquafaba, cream of tartar, xanthan gum and salt. Whisking on medium while cooking the sugar syrup.
2. Add 40g water and agar agar powder in a saucepan, cook until agar and sugar dissolved.
3. Add in 50g water, corn syrup and sugar in a saucepan, heat until it reaches 120c.
4. Once the syrup has reached temperature, pour sugar syrup, agar water mixture into the aquafaba meringue while continuing to whisk on high speed until fluffy and has enough body to hold when piped. Add colour powder and whisk to combine.
5. Pipe marshmallow on the prepared pan. Sieve the icing sugar and cornstarch mixture over the top of the marshmallow to coat, smooth the top with a spoon. Refrigerate for 12 hours or overnight to set.
---