Midori Matcha Swirl Japanese Milk Bread
This recipe was born out of a dream. We can't get over how pleasant delicious this light & fluffy, pull-apart Midori Matcha Swirl Japanese Milk Bread made from our Sucore Foods® Midori Jade Matcha Powder.  The perfect amount of light and fluffy that just satisfies your taste buds! Not only does this taste great but our matcha is packed with goodness, there isn't a reason not to make this in time for your breakfast.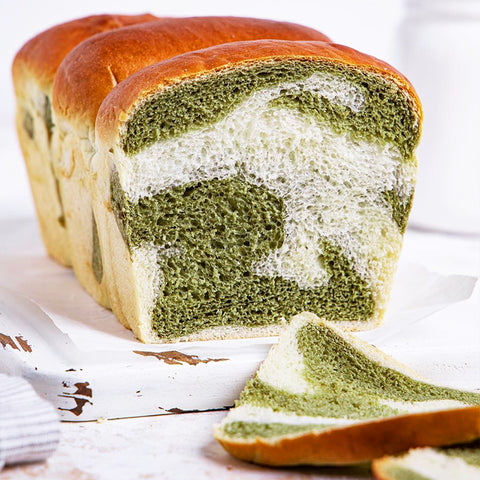 Ingredients
Loaf:
7g (2.5 tsp) instant yeast or 9g active dry
350g /m( 2.75) cups bread flour
65g (1/3) cup sugar
16g dry coconut milk powder (optional)
4g (1/2 tsp) salt
1 tbsp Suncore Foods® Midori Jade Matcha Powder dissolved into 1 tbsp water for the matcha dough
120 ml (1/2 cup) soy milk, warm (55C|110F)

Roux:
30-50 g butter/ vegan butter
Make the roux by cooking the flour and water until you get a curd. Set aside to cool to room temperature.
Directions
1. In a medium bowl, combine the dry ingredients.
2. Add the warm milk and roux to the bowl of a stand mixer fitted with the hook attachment. Then add the dry ingredients.
 Turn the mixer on medium-low and mix for 5-7 minutes until gluten develops and the dough feels elastic.
3. Add the butter one tablespoon at a time and wait until it's fully incorporate before adding more.
4. Mix for another 5-7 minutes until the butter is completely incorporated and the dough is smooth and feels elastic.
5. Divide dough into two equal pieces. Transfer one of the pieces to a grease bowl and cover.
6. Place the other dough back to the stand mixer and incorporate the matcha paste.
7. Shape the dough into a ball and transfer to a greased bowl. Cover and let rise for 60-90 minutes or until doubled in size.
8. After the first rise, divide each dough into 4 pieces.
9. Flattened the dough pieces into ovals, then fold right and left sides (lengthwise) over to the middle so both sides meet but are not overlapped.
10. Roll the dough into an oval again. You will end up with 4 green and 4 white ovals. Place the green dough over the white one and flatten to combine the dough.
11. Starting with a short end, roll into a log. Place the logs seam side down in a lighted greased 22x2 cm / 9" x 5" loaf pan.
12. Cover the loaf and allow it to rest and rise for 50 minutes, until puffy.
13. Brush the loaf with oat milk and bake at 175C / 350ºF for about 25-30 minutes.
14. Remove from the oven and let cool into the pan for 10 minutes before transferring to a wire cooling rack.
---