Matcha Crinkle Cookies
Fans of matcha rejoice! These buttery, delicious Matcha Crinkle Cookies are surprisingly delightful and we love them so matcha! Made with our Suncore Foods® Midori Jade Matcha Powder and the result is an earthy sweet vanilla note that is utterly dreamy & alluring. The perfect sweet treats as a snack to enjoy, crispy on the outside and chewy on the inside.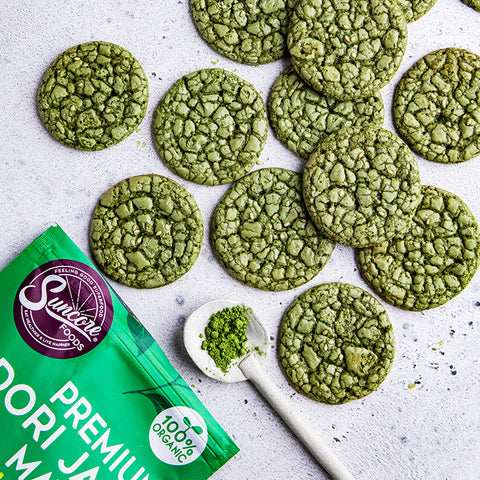 Ingredients
36 Small Cookies

80g (½ cup) white chocolate
60g (¼ cup) vegan butter
70g (⅓ cup ) white granulated sugar
30g (2 tbsp) light brown sugar
1 egg
60g (½ cup) all purpose flour
1 tbsp Suncore Foods® Midori Jade Matcha Powder
½ tsp baking powder
¼ tsp SALT
White sesame seeds to decorate (optional)
Directions
1. Preheat the oven to 175 C/ 350°F. Line baking sheet with parchment paper.
2. Melt the butter and white chocolate using a double boiler method. (Bring a pot of water to a simmer.
3. Add the butter and chocolate to a heatproof bowl and place on top of water. Stir the mixture until melted and silky smooth.) Set aside.
4. In the bowl of a stand mixer, whisk together egg and sugars until smooth (about 3-5 minutes).
5. Slowly pour the butter-chocolate mixture into the egg mixture. Mix until well combined.
6. Sift flour, baking powder, Suncore Foods® Midori Jade Matcha Powder and salt into the wet ingredients. Whisk until well combined. Use a spatula to scrape the bottom of the bowl.
7. Use a spoon or a pastry bag to shape the cookies on the baking sheet.
8. Leave some space between the cookies as the batter will spread as the cookies bake.
9. Place the baking sheet on the middle rack of the oven and bake for about 8-9 minutes.
10. Cool the cookies for about 15 minutes. The cookies will first look slightly domed and will collapse and appear more crinkled as they cool.
---