Matcha and Beet Marble Glazed Molasses Cookies
Red and green, you know what that means! Ahhh the season of sweet treats. Candy cane, peppermint, gingerbread, but most importantly cookies! But not just any cookies, Matcha and Beet Marble Glazed Molasses Cookies! The beet-utiful glazes for these marble-ous cookies are made using Suncore Foods® Red Beet and Midori Jade Matcha Powders. It's a Christmas match-a made in heaven!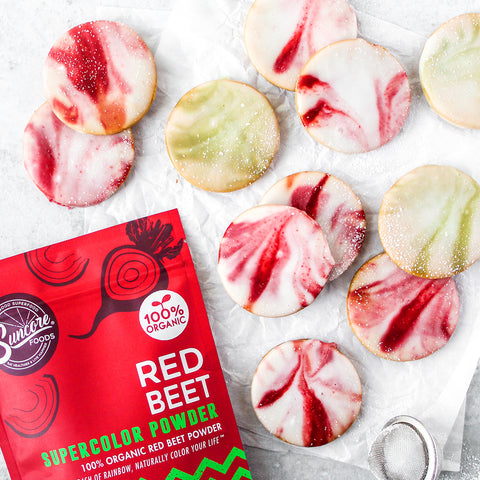 Directions
1. In a medium bowl, beat the vegan butter until smooth. Beat in the molasses, honey, and salt. Use a large wooden spoon or spatula to gently mix in the flour until no flour streaks remain. Turn dough out onto a piece of plastic wrap, shape into a flat disc, wrap, and refrigerate for two hours.
2. Preheat your oven to 350°F. Roll chilled dough 1/4" thick between two pieces of parchment paper. Place on a baking sheet and freeze for five minutes. Cut cookie shapes, removing excess dough and re-shaping/chilling to roll out later. Re-freeze the cut out cookies, along with the parchment paper underneath, for 10 minutes. Arrange cookies 1 inch apart (keeping them on the cold, parchment-lined baking sheet). Bake cookies at 350°F for around 7 minutes. Let cool for 1 minute on the baking sheet and then move to a cooling rack. Repeat until you've rolled, cut, and baked all of the cookies.
3. Once all of the cookies are baked and totally cool, you can make your glaze. In a small bowl, combine the powdered sugar and milk until no lumps remain. Spoon about 4 tbsp of the white glaze into two separate bowls so each bowl has 2 Tbsp. Add the Suncore Foods® Red Beet Powder to one of the smaller bowls, adding more milk or powdered sugar if necessary. Repeat with the Suncore Foods® Midori Jade Matcha Powder and the other smaller bowl of glaze. You'll end up with one bigger bowl of white glaze and two smaller bowls of red and green glaze.
4. Now divide the white glaze into two separate bowls; set one aside. Drizzle a bit of the red glaze onto the surface of one bowl of white glaze. Carefully dip the tops of half of the cookies in the glaze, lifting up and allowing the excess glaze to drip off. Then quickly turn cookies over and place on cooling rack. Repeat with the other bowl of white glaze + green glaze until all cookies are glazed.
5. Allow the glaze to set before storing cookies at room temperature in an airtight container - I don't recommend stacking the cookies.
---