Marigold Passion Fruit Madeleines Tower
Let's take your dessert game to an impressive height! This golden, light & airy Marigold Passion Fruit Madeleine Tower is stunning. Add a pop of color to your dessert table with Suncore Foods® Marigold Passion Fruit Powder & Seeds and add a delicious passion fruit taste. Happy sunny yellow chocolate coating made with Suncore Foods® Red Beet & Yellow Goldenberry Powders. Always save room for dessert.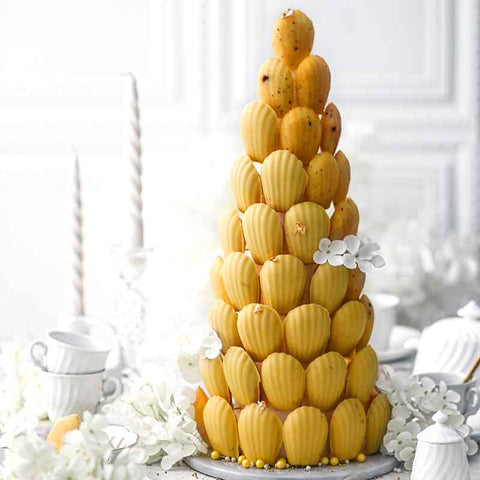 Directions
1. To Make the Madeleine — Place flour, baking powder and salt in a bowl; mix well; set aside. Whisk eggs; sugar and vanilla in a large bowl until fully incorporated without incorporating too much air. Add in melted butter and passion fruit mixture; mix until fully incorporated. Shift in dry ingredients in batches. Mix until well combined. Cover and let batter chill for at least 1 hour in the fridge. Bake at 175 degrees Celsius for 11 minutes.

2. To Make the Chocolate Coating — Place chocolate over double boiler. Once chocolate has melted; stir the powder. Mix until well incorporated. Transfer chocolate to a small piping bag; squeeze small amount of chocolate on madeleine pan, then place the baked madeleine on top of the chocolate, gently swirl to coat evenly. Once done; place the pan in the freezer for 1 minute. Remove the pan and gently tap in on the counter to release madeleines. Enjoy!
---