Mango Passion Fruit Tart
Escape to a slice of tropical bliss with our Mango Passion Fruit Tart! Immerse yourself in the exotic flavors of fresh mango and tangy passion fruit, as they collide in a heavenly dance upon a buttery crust. Add some sparkles with Suncore Foods® Powders & Flakes. Experience the vibrant flavors of the tropics and indulge in a moment of pure tropical paradise. Treat yourself to a slice of pure bliss and your taste buds will thank you!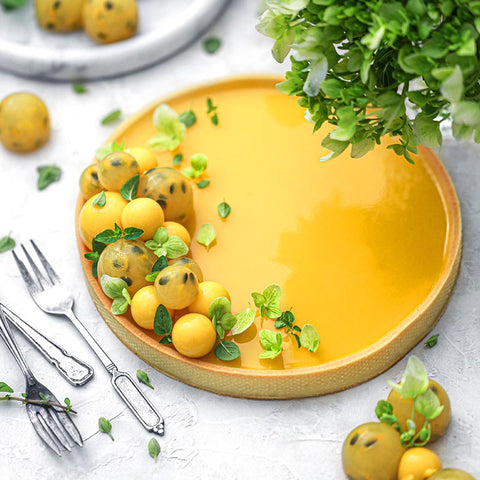 Directions
1. To Make the Crust — Place all ingredients in a food processor, pulse until you get wet sand texture; add in 1 tbsp of aquafaba, pulse until mixture becomes a soft dough. Roll out the dough into a thin sheet, in between 2 parchment paper then place the rolled-out dough in the freezer for 15 minutes to firm up. Once ready, cut out the base of tart with your tart ring; place on baking pan. Cut out thin strips, carefully transfer to shape the side of the tart pan. Once done, place the tart back to the freezer again to firm up before you bake it. At this stage, preheat oven to 180 degree Celsius. Bake it for 15-20 mins until the edges become golden brown. Set aside to cool while you prepare the filling.
2. To Make the Passion Fruit & Mango Filling — Blend mango, water and passion fruit flakes until very smooth. You should get about one cup mixture. Transfer juice to a saucepan along with all other ingredients. Cook mixture on medium low heat for about 6-7 minutes (stirring constantly). Once done, pour mixture directly over cooled tart shell. Let it set in the chiller for 20 minutes before making the next layer.
3. To Make the Passion Fruit Jelly Glaze Layer — Blend together passion fruit flakes and water. Pour mixture to small saucepan; add in all other ingredients. Cook mixture until agar agar and sugar have completely melted. Pour directly over passion fruit and mango layer. Let the tart set for at least an hour before serving. Decorate with fresh fruits and more jelly. Enjoy!
---