Mango Passion Fruit Chia Pudding
This perfectly sweet & delicious pudding doubles as breakfast or dessert and now that's a win. And incorporating chia seeds makes an easy, simply good which requires no cooking! Genius! You can't resist putting your spoon in this Mango Passion Fruit Chia Pudding. Chia seeds here, chia seeds there, chia seeds everywhere! Made with Suncore Foods® Black Chia Seeds and Suncore Foods® Sparkly Amber Passion Fruit Flakes to create that creamy pudding and stunning yellow hue. It's definitely a yes from us for these jars packed with goodness!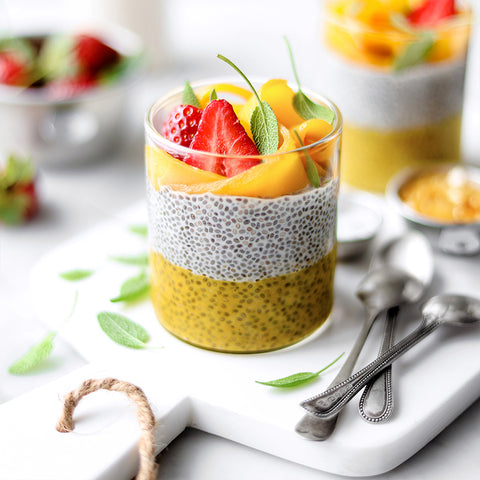 Directions
1. Place all mango/coconut chia pudding ingredients in a jar. Cover tightly with lid and shake to combine.
2. Let it rest in the fridge for 1-2 hours or overnight, stirring occasionally, until it reaches a pudding-like consistency. Enjoy!
---