Keroppi Matcha Donuts
You donut want to miss these ADORABLE Keroppi Matcha Donuts! Who could say no to this cute little face? Add some heavenly colors with Suncore Foods® Midori Jade Matcha & Ruby Red Radish Powders to bring these little cuties to life. Melting hearts with their cuteness, they melt in your mouth as some of the most delicious crumbly donuts with a rich white chocolate glaze. These will make you jump for joy for breakfast!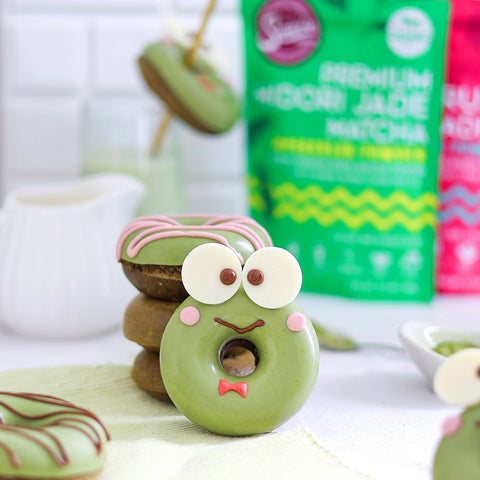 Directions
1. Donuts — Preheat the oven to 180°C/ 356°F. In a large bowl, add flour, sugar, salt, baking soda, and Suncore Foods® Midori Jade Matcha Powder, mix well. In another bowl, add egg, milk, and vanilla extract, mix well. Combine the wet ingredients with the dry ingredients. Add melted butter, mix well. Pipe the batter into the donut mold about 80% full. Bake for around 15 mins. Let them cool down on a cooling rack.

2. Chocolate Coating — In a bowl, add 100g melted white chocolate and Suncore Foods® Midori Jade Matcha Powder, mix well. Add a thin layer of chocolate into each mold. Put the donuts back to the mold, press slightly to even put the chocolate. Refrigerate for around 15 mins or until the chocolate is set. Remove the donuts gently from the molds.

3. Facial Features — Use the leftover matcha chocolate as glue, place two white chocolate discs as eyes. Mix melted white chocolate with Suncore Foods® Ruby Red Radish Powder (pink and red), draw the blushes and bow ties. Use melted dark/ milk chocolate to draw the eyes and mouths.
---