Gift Box Icebox Ombre Cloud Cookies
Let's be honest, we can barely tell when the cookies start or the flowers end on these astonishingly beautiful Ombre Cloud Cookies! Make someone important in your life feel extra special and loved with a box of these gorgeous and incredibly fluffy cookies! Taking a couple extra but simple steps yield such unbelievable results. For instance, taking the care to pipe out the cookie dough and adding Suncore Foods® Red Beet Powder creates a phenomenal array of vibrant reds and rosy pinks! Each cookie blooms into its own unique creation so that cookie after cookie, we're sure everybody will be astonished anew. It's the season of gift giving, so let's get these unforgettable cookies baked and wrapped! SuncoreFoods.com will have all that you need to find this amazing recipe!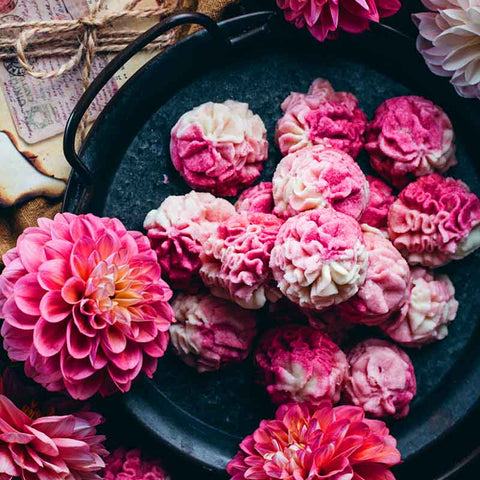 Directions
1. Preheat oven to 260˚F.
2. Using a hand mixer, beat butter until creamy. Add powdered sugar and beat until combined.
3. Gradually, add the dry ingredients until dough holds together. Transfer the dough to a working surface, knead until it becomes very smooth and not sticky.
4. Divide the dough into 3 pieces. Add the Suncore Foods® Red Beet Powder to the dough and knead each dough until the color is well mixed.
5. Cover the doughs with a piece of plastic warp. Cut one end using scissors. And place it into a pipe bag with flower tipped nozzle.
6. Pipe the dough onto a baking sheet lined with parchment.
7. Bake for 30 minutes.
8. Cool on a cooling rack.
---