Pull-Apart Purple Sweet Potato Milk Bread Buns
Nothing better than starting your day with a cute little fluff! Enjoy your morning or afternoon with these light and delicious fluffy milk bread buns! Baked these dough-pe and fresh Fluffy Pull-Apart Purple Sweet Potato Milk Bread Buns using our Suncore Foods® Purple Sweet Potato Powder that we all want to try! Get ready to crumble and visit our website at SuncoreFoods.com to check out ways to make your little fluffy treats even better with wonderful colors and flavors!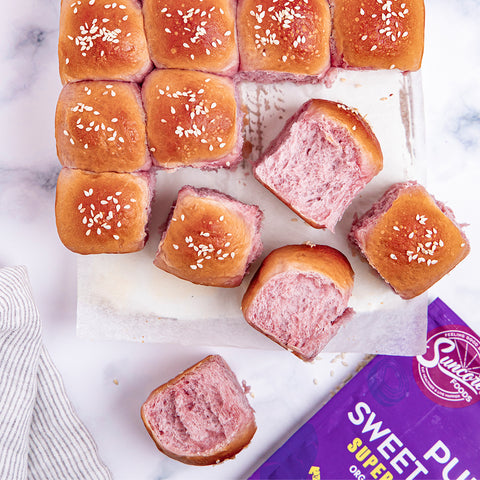 Ingredients
Tangzhong:
25g bread flour
60ml (¼ cup) plant milk
60ml (¼ cup) water

Dry Ingredients:
350g (2 3/4 cups) bread flour
1 tbsp Suncore Foods® Purple Sweet Potato Powder
1 tbsp coconut milk powder
50g (1/4 cup) sugar
2 tsp active dry yeast or 1.5 tsp instant yeast

Wet Ingredients:
Tangzhong from above
1 tsp salt
130ml (½ cup+ 1 tbsp ) plant milk (soy milk was used in this recipe)
50g vegan butter, at room temperature
Directions
1. Tangzhong – Add water, plant milk and flour to a small saucepan and whisk until smooth. Cook over medium low heat and stir with a wooden spoon until thick. Transfer to a small bowl. Cover with plastic wrap and gently press it against the surface of the tangzhong. Let cool.

2. If you're using active dry yeast, please heat milk until lukewarm, add in yeast and proof for 5-10 minutes. You should see a thick layer of foam, indicating the yeast is active.
3. In the bowl of a stand mixer whisk bread flour, coconut milk powder, Suncore Foods® Purple Sweet Potato Powder, sugar and instant yeast (if using).
4. Add in soy milk (or yeast + milk mixture), salt and tangzhong. Mix on medium-high. Add in chunks of vegan butter until smooth. Continue mixing on medium-high for about 15-20 minutes, until elastic and smooth. Turn out into a greased bowl. Cover and let rise in a warm place until doubled in size, around 1-2 hours, depending on how warm your kitchen is.
5. Turn onto a working surface. Divide into 16 portions and work the edges down so that there is a smooth round surface. Place on a parchment paper covered pan and then cover loosely with plastic wrap. Rest another hour, until doubled again. (Or refrigerate overnight).
6. Preheat oven to 175C/ 350F.

7. Brush buns with some soy milk and sprinkle sesame seeds.

8. Bake for 20-25 minutes, until golden brown! Enjoy!
---