Emerald Pandan Leaf Sweet Red Bean Buns
Whether you're on-the-go or craving something to munch on, get your hands on these Emerald Pandan Leaf Red Bean Buns (豆沙包)! One bite into these soft, fluffy, and pillowy steamed buns, soooooo good, you will want them every day! The addition of Suncore Foods® Emerald Pandan Leaf Powder created the aesthetic green color and delicious aroma! Who wants some?!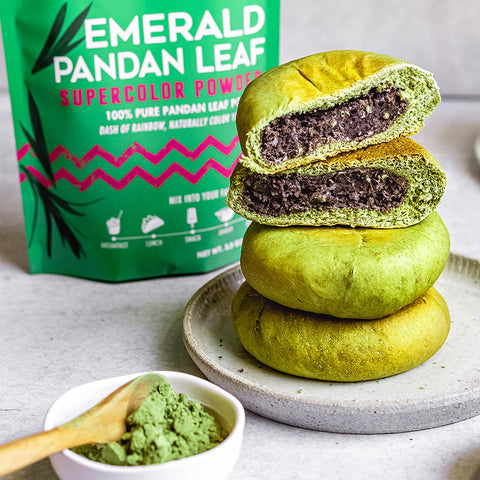 Ingredients
Dough (Makes 8):
250g bread flour
45g all purpose flour
5g instant yeast
20g sugar
20g Suncore Foods® Emerald Pandan Leaf Powder
3g salt
180g plant-based milk
30g vegan butter
Filling:
250g cooked beans, without salt (black/red/white beans are all okay)
Granulated sweetener, to taste
Directions
1. In a large bowl, whisk together the flour, yeast, Suncore Foods® Emerald Pandan Leaf Powder, and sugar. Mix in the salt and milk. Once combined, add vegan butter and knead into a smooth dough, about 20 minutes. Shape into a ball and place in a covered bowl to rise for 1 hour, or until doubled in volume.
2. Meanwhile, combine beans and sweetener in a bowl. Mash into a smooth paste (adding some water if needed), then divide into 8 equal portions.
3. Once the dough has risen, punch it down and divide it into 8 pieces. Shape into balls and let rest for 10 minutes. Then, roll/press each piece into a flat circle, and place a piece of the bean paste in the center. Pull all sides of the dough around the filling and seal by pinching the seams together. Gently roll each dough ball on a flat surface with the seams down, and place on a lined baking tray. Let rest for 30 minutes.
4. Preheat your oven to 375F/190C. For a "flatter" shape, place a baking tray on top of the buns, then bake for 20-25 minutes, or until golden brown on top. Let cool and enjoy!
---